Once and Always by Judith McNaught
Author:Judith McNaught , Date: September 9, 2017 ,Views: 3530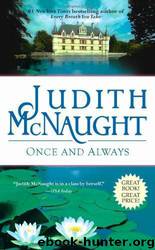 Author:Judith McNaught
Language: eng
Format: azw3, mobi, epub
Tags: Regency, England, Contemporary, Fiction, Romance, General
ISBN: 9780671737627
Publisher: Pocket
Published: 1987-01-01T13:00:00+00:00



Chapter Eighteen
When Victoria went down to breakfast, she was amazed to find Uncle Charles already seated at the table, long before he normally arose, and seeming absolutely overjoyed about something.
"You're looking as lovely as usual," Charles said, beaming, as he stood up and pulled out her chair for her.
"And you're looking even better than usual, Uncle Charles," Victoria returned, smiling as she poured her tea and measured in some milk.
"I've never felt better," he declared expansively. "Tell me, how is Jason feeling?"
Victoria dropped her spoon.
"What I mean is," he explained smoothly, "I heard him moving about in the hall early this morning and I heard your voice too. Jason sounded," he paused delicately, "a trifle disguised. Was he?"
Victoria nodded cheerfully. "Drunk as a wheelbarrow!"
Instead of commenting on that, Charles said, "Northrup informed me your friend Wiltshire was here an hour ago, inquiring rather desperately about Jason's health." He gave I her an amused, speculative look. "Wiltshire seemed to believe Jason had fought a duel this morning and been injured."
Victoria realized it was useless to try to keep the matter from him. She nodded, laughing. "According to what Jason told me, he fought a duel with Lord Wiltshire because Lord Wiltshire called me 'an English bumpkin.' "
"Wiltshire's been plaguing me to distraction for permission to formally pay his addresses to you. I can't believe he called you that."
"I'm certain he did not. For one thing, it doesn't make the least bit of sense."
"None at all," Charles agreed cheerfully. "But whatever the provocation for the duel was, Wiltshire apparently shot Jason?"
Merriment sparkled in Victoria's eyes. "According to Lord Fielding, he was shot in the arm by a tree."
"Oddly enough," said Uncle Charles, amused, "that is exactly the story that Northrup had from young Wiltshire!" After a moment, he added, "No matter. I understand Dr. Worthing attended to Jason. He is a friend of Jason's and mine, and an excellent physician. If Jason's health was in any real danger, he would be here right now, caring for him. Moreover, Worthing can be depended upon to keep the matter quiet—dueling is illegal, you know."
Victoria paled, and Uncle Charles reached across and covered her hand with his own, giving it a reassuring squeeze. "There's nothing whatever to worry about." An inexplicable tenderness shook his voice as he added, "I can't tell you how—how profoundly happy I am to have you with us, my child. There is so much I want to tell you about Ja—about everything," he amended lamely. "The time will soon come when I can."
Victoria took the opportunity to again urge him to tell her about the days when he knew her mother, but Uncle Charles only shook his head, his expression turning solemn. "Someday soon," he promised as he always did. "But not yet."
The rest of the day seemed to drag as Victoria waited nervously for Jason to appear, wondering how he would act toward her after last night. Her mind revolved around the possibilities, unable to leave them alone. Perhaps he would despise her for letting him kiss her.
Download


Copyright Disclaimer:
This site does not store any files on its server. We only index and link to content provided by other sites. Please contact the content providers to delete copyright contents if any and email us, we'll remove relevant links or contents immediately.