Marrying Winterborne by Lisa Kleypas
Author:Lisa Kleypas , Date: June 29, 2016 ,Views: 3733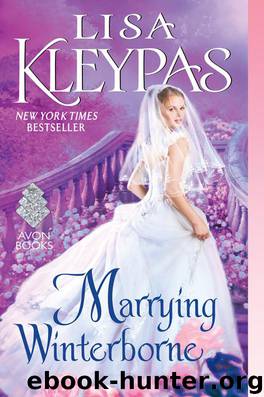 Author:Lisa Kleypas
Language: eng
Format: mobi, epub
Publisher: HarperCollins
Published: 2016-04-05T19:00:00+00:00



Chapter 17
THE DISTANT CHIMES OF a clock drifted through the house as Helen slipped from her room and navigated the shadows of the upstairs hallway. Rhys had been lodged in a guest room in the east wing, for which she was thankful. They would need privacy for the conversation they were about to have.
She was as afraid as she had ever been about anything. Her heart pounded so hard that it felt as if something were striking her chest from the outside. She didn't know Rhys well enough to be certain how he would react when she told him. Whatever he might feel for her, it was founded on some ideal of perfection, of an aristocratic wife on a pedestal. The news she was about to tell him wasn't a step down from the pedestal—it was a leap off a cliff.
The problem was not with something she had done. The problem was with who she was, and there was no solution for that. Would Rhys ever be able to look at her without seeing shades of Albion Vance? She had spent most of her life with people who were supposed to love her, and hadn't. She couldn't endure spending the rest of it with a husband who would do the same.
By the time Helen reached the east wing, she was desperately cold despite the wool lining of her dressing gown and the thickness of her embroidered slippers. Shivering, she approached Rhys's door and knocked tentatively.
Her stomach lurched as she was confronted with Rhys's huge dark form, silhouetted against the glow of the hearth and a small bedside lamp. He was dressed only in a robe, his chest and feet bare. Reaching an arm around her waist, he drew her past the threshold, closed the door, and locked it decisively.
As Rhys pulled her against him, Helen pressed her cheek against the exposed part of his chest.
Feeling the way she trembled, he cuddled her closer. "You're nervous, cariad."
She nodded against his chest.
One of his hands gently cupped the side of her face. "Are you afraid that I'll hurt you?"
She understood that he was referring to the physical joining that had left her sore after their first time. What she feared, of course, was a far different kind of pain. Licking her dry lips, she forced herself to reply. "Yes. But not in the way you—"
"No, no," he soothed, "it will be different this time." He bent his head and hugged her as if he were trying to surround her with himself. "Your pleasure means more to me than anything in life." One of his hands slid low on her hips to the beginning curve of her bottom. His hand traveled to her front, gently pressing her stomach before sliding to the place between her thighs.
The teasing stroke sent a thrill of sensation through her, and her legs quaked until she could hardly stand. She took a breath to speak, but it stuck in her throat as a half-sob. Swallowing it back, she said unsteadily, "It's not that, it's .
Download


Copyright Disclaimer:
This site does not store any files on its server. We only index and link to content provided by other sites. Please contact the content providers to delete copyright contents if any and email us, we'll remove relevant links or contents immediately.