Under Mr Nolan's Bed by Selena Kitt
Author:Selena Kitt [Kitt, Selena] , Date: July 17, 2016 ,Views: 3373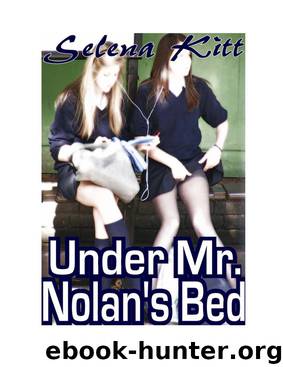 Author:Selena Kitt [Kitt, Selena]
Language: eng
Format: epub
Tags: iwantmoney, forum.mobilism.org
Published: 0101-01-01T00:00:00+00:00



116
"Seatbelt," I reminded, pulling mine across. "She's likely to kill us on the way there."
"Hey!" Erica protested, starting the car and putting it into gear. The car lurched forward toward the house when she pressed on the gas.
"Reverse, Erica." Mr. Nolan winced.
She rolled her eyes, looking at me in the rearview mirror. "I knew that!"
I was glad that the theater was only a half-mile from the house. When Erica pulled crooked into a parking spot, I jumped out before she even had a chance to straighten the car—not that she intended to, since she was getting out, too, tossing the keys to Mr. Nolan over the Sable's roof.
"So Bobby saw this movie?" I asked Erica as we headed off to the concession stand with a crisp twenty dollar bill from Mr. Nolan's wallet. Her dad was getting tickets.
"Yeah, with his sister," she replied. "I think it'll be good. Better than Mimic or that awful Starship Troopers he made me sit through. Ugh!"
"Hey, Starship Troopers was your idea." Mr. Nolan came up behind us as we got to the front of the line.
"Keep lying like that and your nose is gonna grow." Erica rolled her eyes and started to rattle off what we wanted to the guy behind the concession stand.
"That's not what's growing," Mr. Nolan whispered, leaning in to my ear so only I could hear him. His hands gripped my hips for just a moment, pressing into me from behind, and then he let me go, reaching for the popcorn and pop on the 117
counter. I stood there, breathless, trying not to look at him, but feeling a heat spreading through my whole body.
"Twizzlers." Erica handed them over to me. "I don't know how you can eat those things."
The guy taking tickets smiled and winked at Erica, and his eyes skipped from her bare midriff over to my legs. Mr. Nolan saw him looking and came up behind us both, pressing two popcorn tubs to the small of our backs and steering us past him.
"Dad!" Erica protested, looking over her shoulder and smiling back at the guy, who was watching us walk away.
"Don't 'Dad' me," he said, still smiling. "Keep walking."
Inside the theater, Mr. Nolan directed Erica in first and then followed her, leaving me to bring up the rear. The theater was practically empty, although the previews had already started, and we settled into our seats with all our goodies.
Erica put her feet up on the seat in front of her, balancing her popcorn in her lap and munching away.
I noticed Mr. Nolan looking at my legs out of the corner of his eye and I crossed one knee over the other, moving a little to make my skirt slide up my slim thigh. I was rewarded with a raised eyebrow from him as he shifted in his seat. I glanced over at Erica, but her eyes were on the screen, watching a preview for X-Men.
"Want one?" I whispered to him, opening my packet of Twizzlers and putting one of the long, red licorice ropes into my mouth, sucking gently.
Download


Copyright Disclaimer:
This site does not store any files on its server. We only index and link to content provided by other sites. Please contact the content providers to delete copyright contents if any and email us, we'll remove relevant links or contents immediately.