The Betrayed by Graham Heather
Author:Graham, Heather [Graham, Heather] , Date: June 29, 2017 ,Views: 11092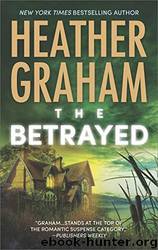 Author:Graham, Heather [Graham, Heather]
Language: eng
Format: mobi, epub
Tags: Thrillers, Ghost, Suspense, Fiction
ISBN: 0778316564
Publisher: Harlequin
Published: 2014-09-29T07:00:00+00:00



10
Patience was everything with children. So Aidan had recently learned.
He'd also discovered that he really liked J. J. Appleby. It would still have been murder and he would've had to give it the same dedication, no matter who the victims were, but it seemed all the worse for the fact that Richard had been one of the few men to survive politics with a soul and Wendy Appleby had obviously been a kind, giving person and a wonderful mother.
And that J.J. was such a great kid and an orphan now.
Finally, however, Mo and Debbie—who had kept her word and stayed with the boy—finished talking. Rollo's giant head rested beside J.J. on the bed, and Aidan could ask the boy a few more questions.
"I know this is hard for you, J.J., but have you remembered anything else you could tell me?" J.J.'s face was strained, his forehead wrinkled in thought, but he didn't cry again. He looked at Aidan.
"Do you remember where your mom parked?"
J.J. nodded. "Kind of by the side. Mom said the easiest way out was when you parked at the side. You could get onto the highway from there."
"Thank you, J.J. Now, do you remember anything else—like a sound?" Aidan asked. "Or maybe a smell?"
J.J. thought again. "Not a sound. But I do remember a smell."
"Good smell, bad smell?" Aidan asked. "This was before the hood—or whatever it might've been—was dropped over your head, right? That was a different smell, wasn't it?"
"Yeah. That was awful—sicky sweet. This other smell, it was earlier. Maybe a couple seconds before...the other thing happened. It wasn't a bad smell," J.J. said. "It was like...heavy perfume."
"Would you recognize it if you smelled it again?"
J.J. nodded. "But it wasn't nice and light—like the perfume my mom wore." He paused and bit his lip. He had obviously decided he'd cried enough. "I loved the way she smelled. This was more like...I don't know. Not pretty or light."
"More like a man's cologne, maybe?" Aidan asked.
"Maybe."
"Thank you," Aidan said. "Okay, I'm just going to ask you one more question for now. Someone came up behind you. You didn't get a chance to turn or scream or fight because they put something over your head." He hadn't wanted to subject J.J. to a more intensive interrogation the day before and hoped to learn more now.
Again, J.J. gave Aidan his full attention and nodded.
"Did you get a chance to notice what it was? Like was it a rough cloth or was it smooth?"
"Really rough."
"Black, brown, green, blue?"
"No, no. It was light. Tan, maybe. But it happened so fast. I tried to scream. I wanted to scream—but then I didn't feel anything at all. I was... I don't remember anything else. Except then the first smell was gone—and, like I said, there was that sicky sweet smell."
"You've been a tremendous help, J.J.," Aidan told him.
"Your mom would be so proud," Debbie said quietly.
J.J.'s face crumpled. But, once again, he kept from crying. As if on cue, Rollo whined and nudged J.
Download


Copyright Disclaimer:
This site does not store any files on its server. We only index and link to content provided by other sites. Please contact the content providers to delete copyright contents if any and email us, we'll remove relevant links or contents immediately.