Monster in His Eyes by J. M. Darhower
Author:J. M. Darhower [Darhower, J. M.] , Date: September 5, 2017 ,Views: 4746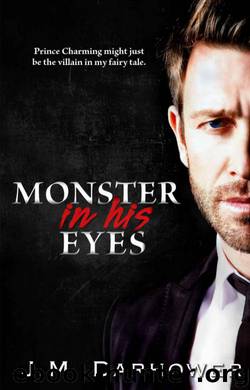 Author:J. M. Darhower [Darhower, J. M.]
Language: eng
Format: epub, mobi
Tags: Literature & Fiction, Romance, Romantic Suspense, Mystery & Suspense, Suspense
Goodreads: 21956060
Published: 2014-04-27T04:00:00+00:00



My mother is a crazy cat lady, just without all of the cats.
She has a dog instead.
Killer is small mutt she picked up from the side of the road when I was sixteen, the day we moved to Watertown. I don't know what he's mixed with, his fur a tangled mix of gold and dingy white, his ears floppy and eyes unnaturally big. He's as passive as a dog gets—slobbery and loving, downright lazy when it comes down to it. His name is ironic, considering he wouldn't hurt a fly.
Literally. Won't even hurt flies.
Despite the lack of cats, my mother shows all the classic symptoms of a slightly neurotic woman, lacking friends and drowning in paranoia, a quirky hermit pulled right off the pages of something Tim Burton dreamed up. Her hair is a tangled, untamed wave that she lets hang loose, her brown eyes shielded by a pair of glasses with thick black frames.
Her flower shop is not far from the bus station in Watertown, about a mile trek near sundown. I drag my bag behind me as I walk, wanting to surprise her. The shop is a little white barn shaped building with a hand painted sign above it simply reading 'flowers'.
She never even gave the place a name.
I don't know how she gets any business. It astounds me that she makes enough money to pay the bills.
A bell above the door chimes when I step inside, everything brightly lit and sweet smelling. Arrangements of flowers are set up all around, the old cash register on the counter right in front of me with nobody manning it. Killer is curled up on the floor with a chewed up tennis ball. He lifts his head the same time a pair of eyes peeks out from the back room.
"Kissimmee!" My mother bounds out, sprinting right for me, and damn near trips over the dog. She wraps her arms around me as Killer jumps up and down around us, barking excitedly.
"Hey, Mom," I say, hugging her back, before leaning down and rubbing Killer's head. "Hey, buddy."
Killer licks my hand in greeting.
"Did you walk here?" Mom asks, prying my bag from my hand and setting it aside as she assesses me, smoothing my hair and fixing my clothes and downright fussing over me until I push her hands away. "You should've told me. I would've picked you up!"
"It's fine," I say. "It's not that far."
"Still, honey, it's getting late, so you shouldn't be walking alone. You never know what—"
"Mom," I say pointedly, cutting her off before she can launch into her usual lecture on safety. "I'm fine. Really. I've still got all my fingers and toes, my head's still on my shoulders, and I've got no broken bones. No harm done."
She gazes at me skeptically, her expression softening as she smiles. She pulls me back into a hug. "I've missed you. How long are you here for?"
"Just the weekend," I say. "I have to be back for class on Tuesday, but I'm all yours until then.
Download


Copyright Disclaimer:
This site does not store any files on its server. We only index and link to content provided by other sites. Please contact the content providers to delete copyright contents if any and email us, we'll remove relevant links or contents immediately.