A Game Of Chance by Linda Howard
Author:Linda Howard , Date: September 26, 2017 ,Views: 3589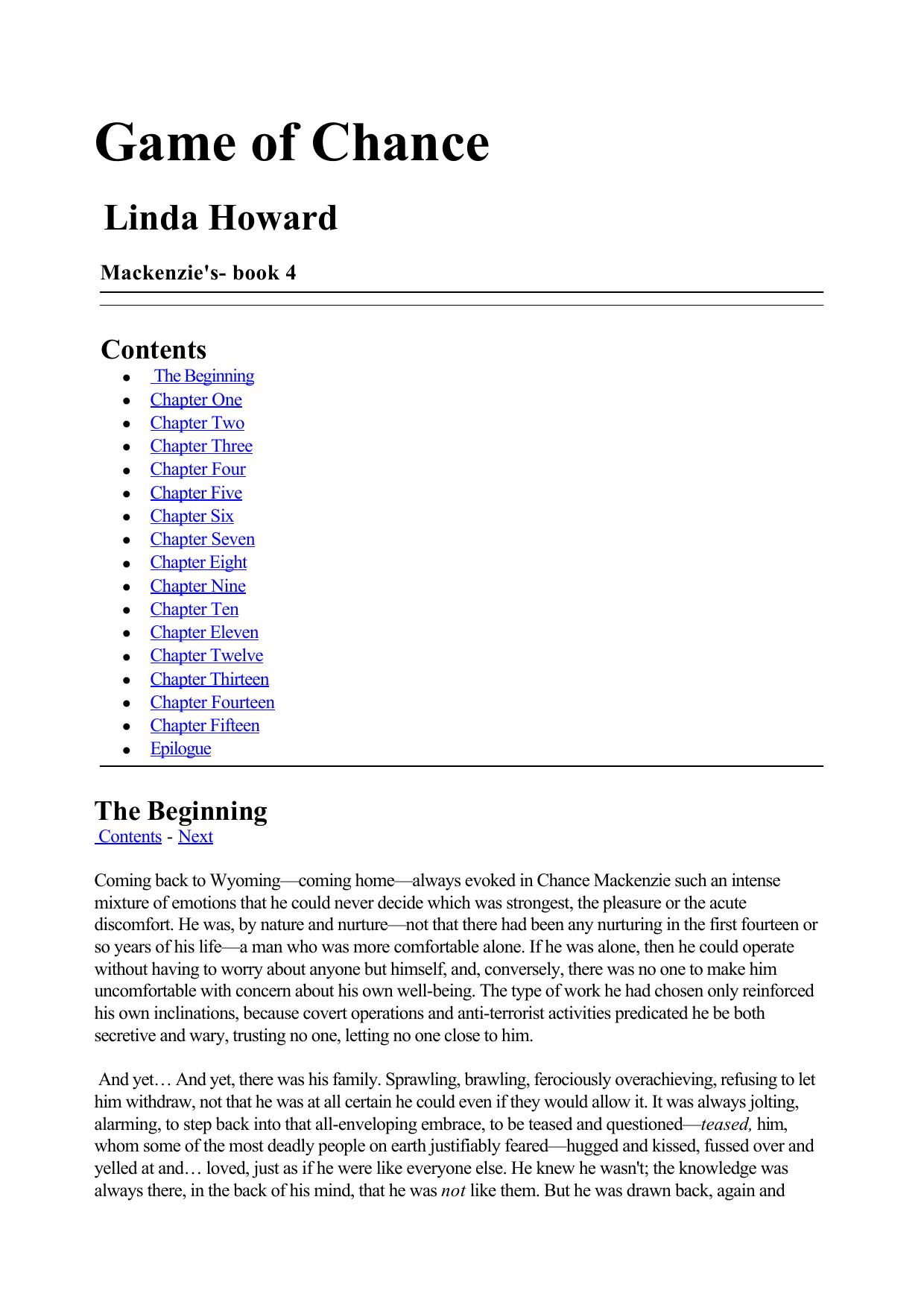 Author:Linda Howard
Language: eng
Format: mobi, epub
Tags: American Light Romantic Fiction, Fathers and daughters, Man-woman relationships, Political Freedom & Security, Romance: Modern, Terrorists, Romance - General, General, Romance, Romantic suspense fiction, Romance - Adult, Suspense, Adult, Political Science, Terrorism, Fiction, Undercover operations, Fiction - Romance
ISBN: 9780373302260
Publisher: Harlequin
Published: 2008-05-01T04:00:00+00:00



Chapter Nine
Contents - Prev | Next
The next morning the traps were empty. Sunny struggled with her disappointment. After such an idyllic, pleasure-filled night, the day should have been just as wonderful. A nice hot, filling breakfast would have been perfect.
"Could you shoot something?" she asked as she chewed half of one of the tasteless nutrition bars. "We have eight of these bars left." If they each ate a bar a day, that meant they would be out of food in four days.
In three days, Margreta would call.
Sunny pushed that thought away. Whether or not they got out of here in time for her to answer Margreta's call was something she couldn't control. Food was a more immediate problem. Chance narrowed his eyes as he scanned the rim of the canyon, as if looking for a way out. "I have fifteen rounds in the pistol, and no extra cartridges. I'd rather save them for emergencies, since there's no telling how long we'll be here. Besides, a 9mm bullet would tear a rabbit to pieces and wouldn't leave enough left of a bird for us to eat. Assuming I could hit a bird with a pistol shot, that is." She wasn't worried about his marksmanship. He was probably much better with a rifle, but with his military background, he would be more than competent with the pistol. She looked down at her hands.
"Would a .38 be better?"
"It isn't as powerful, so for small game, yeah, it would be better. Not great, but better—but I have a 9mm, so it's a moot point."
"I have one," she said softly.
His head whipped around. Something dangerous flashed in his eyes. "What did you say?" She nodded toward her bag. "I have a .38."
He looked in the direction of her gaze, then back at her. His expression was like flint. "Would you like to tell me," he said very deliberately, "just how you happen to have a pistol of any kind with you? You were on a commercial flight. How did you get past the scanners?"
She didn't like giving away all her secrets, not even to Chance. A lifetime on the run had ingrained caution into her very bones, and she had already given him more of herself than she ever had anyone else. Still, they were in this together. "I have some special containers."
"Where?" he snapped. "I saw you unpack everything in your bag and there weren't any—ah, hell. The hair spray can, right?"
Unease skittered along her spine. Why was he angry? Even if he was a stickler for rules and regulations, which she doubted, he should be glad they had an extra weapon, no matter how they came by it. She straightened her shoulders. "And the blow-dryer."
He stood over her like an avenging angel, his jaw set. "How long have you been smuggling weapons on board airplanes?"
"Every time I've flown," she said coolly, standing up. She was damned if she would let him tower over her as if she was a recalcitrant child. He still towered over, just not as much.
Download


Copyright Disclaimer:
This site does not store any files on its server. We only index and link to content provided by other sites. Please contact the content providers to delete copyright contents if any and email us, we'll remove relevant links or contents immediately.