Salvatore: a Dark Mafia Romance by Natasha Knight
Author:Natasha Knight [Knight, Natasha] , Date: July 18, 2016 ,Views: 4863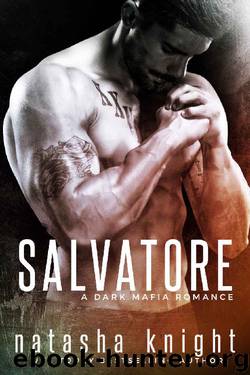 Author:Natasha Knight [Knight, Natasha]
Language: eng
Format: epub
Published: 2016-07-17T21:00:00+00:00



13
Salvatore
I couldn't win. No one could. What I said to her, I meant it. Franco Benedetti would win. And everyone else would lose.
Lucia went straight to her room when we got back to the house, and I shut myself up in my study. She hadn't talked to me the entire ride. Probably pissed at me, which I expected. I would deal with that later, though, because as soon as I booted up my laptop, I saw an e-mail from Roman regarding Luke's activities.
Luke had been busy indeed, meeting with various members of the Pagani family in the tristate area. We knew that, though. That wasn't new. It was the next part that intrigued me.
He was spending his nights in Isabella DeMarco's bed.
That's why it so surprised me to learn that I was wrong. That he wasn't Effie's father.
But that wasn't the strangest thing. In fact, what I saw made zero sense.
I picked up the phone and dialed Roman, but before he could answer, the door burst open. Lucia stood in the doorway, looking pissed off.
"So are you just going to lock yourself up in here and not talk to me at all?" She walked inside. "Because you're giving me fucking whiplash."
I put the lid of my laptop down just as Roman answered the phone. "Let me call you back." I got up and closed the door. "You ever hear of knocking?"
"What the hell is going on, Salvatore? What happened this morning? You were fine. We were fine. Then you had that breakfast meeting, and I don't know. It's like you keep pulling the fucking rug out from under me!"
"I told you, I'll give you your freedom as soon as I can. I thought you would want that."
"This isn't about that. You can't just throw that out there. And besides, how long until you're boss? And what if you change your mind?
I resumed my seat behind the desk but pushed away from it and crossed one ankle over my other knee. "I won't."
That silenced her for a second. She just stood there surprised.
"If you want a fight, I'm not in the mood," I said. "Not now."
She shifted her weight and folded her arms across her chest. "How about the truth, then? Are you in the mood for that? What is the Luke DeMarco problem you have to take care of?"
I let my gaze run over her. She'd changed into a pale yellow sundress, and I could see she wasn't wearing a bra underneath. My balls tightened, but I steeled myself. Lucia was fast becoming a weakness. My weakness. I needed to stop this. I meant what I said, that I'd release her from her contract. I needed to take care that when the time came, she wouldn't look back.
The best way to do that was to be a dick.
I leaned forward and placed my elbows on the desk. "How's your ass, Lucia?"
"My ass is none of your concern."
"Show me."
"Screw you."
"You want to know about Luke DeMarco?"
She eyed me warily but nodded.
"Fine. He's stirring up trouble.
Download


Copyright Disclaimer:
This site does not store any files on its server. We only index and link to content provided by other sites. Please contact the content providers to delete copyright contents if any and email us, we'll remove relevant links or contents immediately.