Red Sparrow by Jason Matthews
Author:Jason Matthews [Matthews, Jason] , Date: March 26, 2014 ,Views: 4233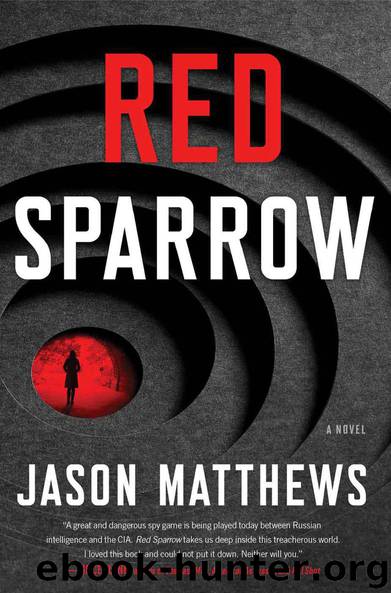 Author:Jason Matthews [Matthews, Jason]
Language: eng
Format: epub, mobi
Tags: Thriller, (¯`'•.¸//(*_*)\\¸.•'´¯)
ISBN: 9781476706122
Amazon: 1476706123
Goodreads: 15803037
Publisher: Scribner
Published: 2013-06-01T05:00:00+00:00



What prevented Forsyth and Gable from further kicking Nate's ass over the affair was a signal from Dominika the next day: Nate studiously did not jerk his hand away when he touched the slick smear of Vaseline on the underside of his car door handle in the morning. She had wiped it on during the night. Emergency signal, he thought, plus twelve hours. The night was chilly, Scandinavian fall had arrived, with hoarfrost on windshields, steam dribbling from the vents. They were waiting at the safe house, reviewing the emergency contingencies. Was she on the run, was this a hot pursuit situation? Nate had researched the air and ferry schedules. Gable's Supo guy was on standby. ARCHIE and VERONICA were sitting by the phone. All three CIA officers dealt with the waiting, the stomach feel. No one checked his watch—they were too good for that.
Nate stood up when her key turned in the lock, and they knew it was okay because her ice-blue eyes were sparkling and her cheeks were flushed—from not only the SDR, but also something else.
Gable fetched a cup of steaming tea and she blew on it while she told the story, quickly and well, details up front because that was how they all were trained. She wanted to rock them a little, impress them. The day before, an unidentified man had come to the Russian Embassy, asked to see the "security man," and had given him an envelope with block printing on it: DELIVER UNOPENED TO M. VOLONTOV. The man slipped out of the embassy before the bovine security officer could get his name, but the security officer instantly took the letter upstairs to Rezident Volontov, who found a second envelope inside the first. Volontov had bellowed for Dominika to come in and had hovered and fumed in a dusty orange cloud while she translated the English-language note. Printed in block letters, it said that the bearer was offering a classified US technical manual to the SVR for the sum of $500,000, and proposed to meet in five days at the Kämp Hotel.
Dominika looked from Nate to Forsyth to Gable, sipped her tea, kept going. There was a second page in the envelope, with three torn strips as if yanked out of a three-ring binder. TOP SECRET/UMBRA top and bottom of the page, boldface title US National Communications Grid, an upper corner trimmed diagonally. Volontov was nervous, made her read the warning notice under the title to him twice: "Unauthorized distribution," "If found, return to Office of Coordination," "Misuse subject to prosecution."
Volontov's face was gray, he barked at her to make a copy. His Soviet sycophant juices were flowing, and he puffily told her he was going to pouch the original title page directly to First Deputy Director Egorov, top priority, more secure that way. Forsyth looked at Gable, and Gable was standing up, throwing on his coat, when Dominika lifted her sweater and pulled a folded piece of paper from her waistband and slid it across to Forsyth—she'd made a second copy.
Download


Copyright Disclaimer:
This site does not store any files on its server. We only index and link to content provided by other sites. Please contact the content providers to delete copyright contents if any and email us, we'll remove relevant links or contents immediately.