The Betrayed by Jana Deleon
Author:Jana Deleon [Deleon, Jana] , Date: June 28, 2017 ,Views: 10622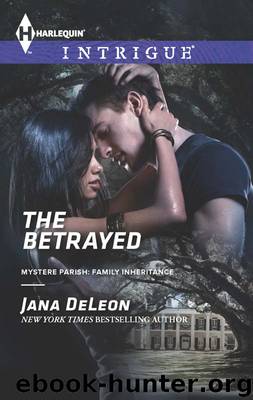 Author:Jana Deleon [Deleon, Jana]
Language: eng
Format: epub, mobi
Tags: Contemporary, Romance, Contemporary Romance Romantic Suspense
ISBN: 9780373697144
Publisher: Harlequin
Published: 2012-12-31T16:00:00+00:00



Chapter Twelve
Alaina LeBeau stood at the front door and lifted a hand as her stepbrother drove away. As his taillights faded into the distance, she pushed the door shut and locked it behind her, her earlier conversation with Danae weighing heavily on her mind.
She turned around and cast her gaze over the cozy living room of her adoptive parents' tiny Boston home. Real estate was at a premium where they lived and always had been. Five people shoved into twelve hundred square feet had been a challenge at times, but they'd managed to make it work, and Alaina and her brother and sister had attended great schools with stellar reputations—allowing them all to enter top-tier universities with scholarships to pay for their degrees.
Alaina had been fed, clothed, required to make good grades, praised when she'd done well and disciplined when she'd gotten out of line. On paper, she had nothing to complain about, even though she'd always known her adoptive parents never loved her as they did their own children. They cared, but that wasn't the same thing.
With Danae, Alaina got the impression that her sister's childhood had been rough, possibly even abusive. Danae had that tough outer shell and guarded her speech like so many street kids Alaina had interviewed in the past for testimony. But Alaina also knew that behind that wall her sister had erected was a vulnerable, damaged human being, and her heart ached for the sister she'd always loved and wanted to protect. Now more than anything, she wished she was back in Calais, but she couldn't see any way out of her obligations here—at least, not for a week or so.
She heard her mother shifting in her bed, trying to get comfortable, even though it was practically impossible with her broken leg. Alaina stepped into the kitchen and poured her a glass of milk and gathered her medicine. She'd made vegetable soup while they were gone and her brother had stayed long enough to enjoy the meal with them and help her get their mother settled in her bedroom.
You should wait.
The words came to her every time she thought about the conversation she needed to have with her mother—the one where she asked if the only reason they took her in was for money. The one where she asked if Purcell continued to pay them to keep her.
She and Danae needed answers. She knew next to nothing about Danae's past, but her little sister had offered up that the woman who'd taken her was now dead. No answers were forthcoming from that source. William had yet to locate Joelle, although he thought he was getting closer. But even when their middle sister was found, no guarantees existed that her adoptive family was still alive or would be willing to answer the questions they had.
She sighed. Truth be told, no guarantees existed that her own adoptive mother would be forthcoming, but at least Alaina had the advantage of being able to read people well.
Download


Copyright Disclaimer:
This site does not store any files on its server. We only index and link to content provided by other sites. Please contact the content providers to delete copyright contents if any and email us, we'll remove relevant links or contents immediately.