The Woman Left Behind: A Novel by Linda Howard
Author:Linda Howard [Howard, Linda] , Date: March 7, 2018 ,Views: 4295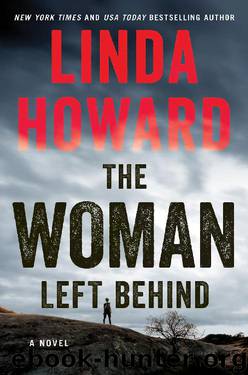 Author:Linda Howard [Howard, Linda]
Language: eng
Format: epub, mobi
ISBN: 9780062419033
Publisher: HarperCollins
Published: 2018-03-06T08:00:00+00:00



Thirteen
Eighteen hours later, Jina and Crutch sat in a not-very-good hotel room in Paris while the other six team members were conducting surveillance on their target. Crutch was keeping in contact with them and coordinating. Jina wasn't doing anything other than waiting. She hadn't expected to be bored but she was; somehow she'd thought the teams did exciting stuff all the time, which if she'd taken the time to think she'd have known wasn't possible, but innocent expectations were what they were—and in this case they were wrong.
"A lot of the stuff we do is boring," Crutch said easily when she mumbled a complaint. "Probably about seventy percent is gathering information. With you and Tweety here, maybe we can cut down on the time spent following people around and getting jack shit for our efforts. Sometimes we're just building a file, looking for patterns, things like that. It's not immediately important, but down the road all of it is."
That was one way of looking at it. Too bad the present was still just as boring. This was an object lesson: always have reading material with her. This was in fact the second object lesson she'd learned on her maiden mission; the first was that she'd packed as if they were going into the field, when most of what they did was in urban settings. Her cargo pants and boots would get her only so far; what she really needed was jeans, a pair of flats, and a warm but stylish sweater, because this was Paris. She'd developed a huge inferiority complex just driving in from the airfield and seeing the Frenchwomen on the sidewalks. Not only was she now bored, she was fighting a powerful urge to go shopping, have her hair done, and get a manicure . . . after she visited a pastry shop.
But she was stuck here, with no downtime until Levi said so. The subject of their surveillance was a South African banker named Graeme Burger, who had triggered some flags at the National Security Agency because he'd contacted a Sudanese who had terrorist links. The Sudanese was currently in Paris, and now so was Banker Burger, whose plane had touched down at De Gaulle a couple of hours ago, and whose taxi was now being followed by Levi and the other guys using a tag-team method. They had three cars, two men to each car, and so far so good; there was no indication that they'd been burned, and the taxi driver wasn't making any effort to evade them. Maybe Burger being in Paris at the same time as the Sudanese was a coincidence—and maybe the sun would turn blue. In the dark underworld of terrorism, there were no coincidences.
Despite the NSA's all-encompassing record gathering, so far the reason for the connection between Burger and Nawal Daw was murky. South Africa wasn't a terrorist hot spot, and although the Foreign Service Institute scored the S.A. banking industry as a possible safe haven for tax evaders, again, it wasn't a hot spot.
Download


Copyright Disclaimer:
This site does not store any files on its server. We only index and link to content provided by other sites. Please contact the content providers to delete copyright contents if any and email us, we'll remove relevant links or contents immediately.