They Both Die at the End by Adam Silvera
Author:Adam Silvera , Date: October 18, 2017 ,Views: 8015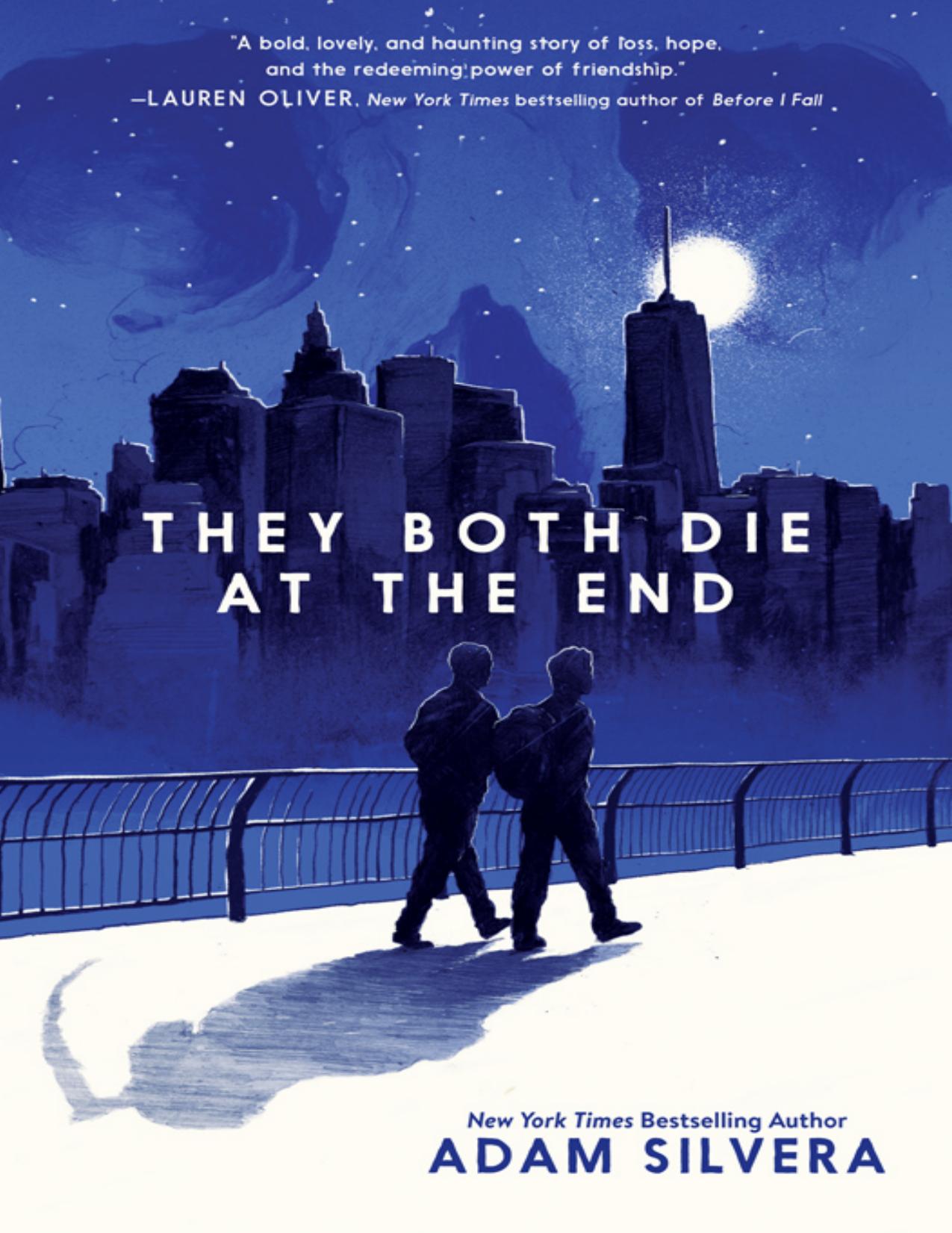 Author:Adam Silvera
Language: eng
Format: epub, mobi
Publisher: HarperCollins
Published: 2017-08-04T04:00:00+00:00



MATEO
8:32 a.m.
On the way to the Make-A-Moment station, Rufus stops in front of a sporting goods store. In the window there are posters of a man cycling, a woman in ski gear, and a man and woman running side by side, with celebrity smiles and zero sweat.
Rufus points at the woman in ski gear. "I always sent Olivia photos of people skiing. We went skiing every year, up at Windham. You're gonna think we were stupid for always going back. My pops broke his nose on the first trip by smashing it against a rock; we were really shocked he didn't die, even though Death-Cast hadn't called. My mom sprained her ankle on the next trip. Two years ago I got a concussion after skiing downhill. I suck at braking and almost ran down some kid, so I switched left at the last second and slammed into a tree like some fucking cartoon character."
"You're right," I say. "I have no idea why you kept going back."
"Olivia put her foot down after I was admitted to the hospital. But we continued driving up to Windham whenever we could because we loved the mountains, the snow, and playing games by our fireplace in the cabin." Rufus keeps it moving. "I'm hoping this spot is as safe and fun as that was."
A few minutes later we reach the Make-A-Moment station. Rufus stops and takes a picture of the entrance and its blue banner hanging above the door: No-Risk Thrills! He uploads it to Instagram in full color. "Look." He hands me his phone. It's open to the comments on his previous picture. "People are asking why I'm awake so early."
There are a couple comments from Aimee, begging him to pick up his phone. "What happened with Aimee?"
He shakes his head. "I'm done with her. Her boy is the reason Malcolm and Tagoe are in jail for something I did, and she's still dating him. She's not loyal."
"It's not because of any feelings you have for her?"
"No," Rufus says. He chains his bike to a parking meter.
It doesn't matter if he's telling the truth or not.
I drop it and we head inside.
I didn't expect this place to look like a travel agency. The wall behind the counter is half sunset orange, half midnight blue, and there are framed photos of people doing different activities, like rock climbing and surfing. It's easy on the eyes, I guess. Behind the counter is a young black woman in her twenties writing in a notebook that she puts away once she sees us. She's in a yellow polo shirt and her name tag reads "Deirdre." I've seen this name before, maybe in a fantasy novel.
"Welcome to Make-A-Moment," Deirdre says, not too cheery, not too distant. The right amount of solemn. She doesn't even ask us if we're Deckers. She slides a binder toward us. "There's currently a half-hour wait for the hot air balloon rides and swimming with sharks."
"Who the hell . . . ?" Rufus turns to me, then back to Deirdre.
Download


Copyright Disclaimer:
This site does not store any files on its server. We only index and link to content provided by other sites. Please contact the content providers to delete copyright contents if any and email us, we'll remove relevant links or contents immediately.