The Black Mage: First Year by Rachel E. Carter
Author:Rachel E. Carter [Carter, Rachel E.] , Date: September 22, 2017 ,Views: 3417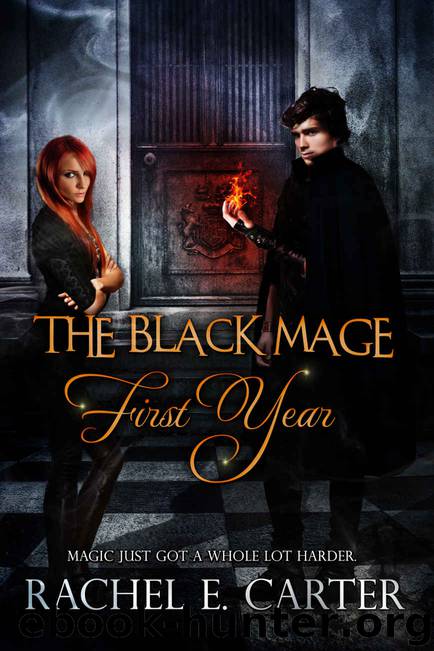 Author:Rachel E. Carter [Carter, Rachel E.]
Language: eng
Format: epub, mobi
Tags: Fantasy, Fiction, Historical, Paranormal, Romance, Young Adult
ISBN: 9781621353249
Publisher: Clean Reads
Published: 2014-08-10T16:00:00+00:00



CHAPTER NINE
The week before we began our chosen factions was the first time off any of us had received since we entered the Academy.
Of course, it wasn't really free. Now that orientation was over, we were five students down and too anxious to do anything except nervously calculate our odds. In seven days' time we would be selecting a faction. A decision that would dictate the remainder of our year, and nothing had driven that home more than that final day of Combat.
"Do they really think we need a week to choose?" Ella made a face as Alex and I joined her at the table for lunch. It was our second day into the week, and it was obvious everyone had already made up their mind.
"They are probably hoping the nerves will get to us." Alex smiled weakly. "Can't say they'd be wrong."
I squinted at my twin over my second mug of tea. Even though we weren't expected to attend lessons, most of the class, my friends and I included, had continued the normal routine. Which meant I was just as tired as any other day at the Academy. "Do they really think we will resign after that day in the mountains?" I groaned. "If we didn't then, we aren't going to now."
But my brother was right.
By the end of the week seven more students had left. I would have thought that after two months of hard work and resilience, self-resolve would be contagious. But a week of reflection had taken its toll. Several young men and women weighed the price of a robe against their family, friends, and a comfortable career back home. For some, magic lost.
Following my brother and friend, I hurried to the atrium where the rest of our class was waiting. Today was not only the day we would be electing our factions, but also the return of the second through fifth-year apprentices and their faction's leaders. We had seen several new faces in passing the past few days. The possibility of meeting Jerar's future mages was too tempting to ignore. I had so many questions, and an apprentice would know first-hand how arduous year one could be, and maybe, just maybe, they could offer some advice.
Or so I thought.
"Today I have exciting news," Master Barclae announced. "In two months' time we have gotten rid of some of the dead weight that has been holding the rest of you back. As of this evening, two more first-years have decided to pursue opportunities outside of our school, bringing the total to fourteen."
I looked around the room and saw several people doing the same, but I was unable to identify the missing faces from the crowd. There were too many of us as it was.
"I am happy to say Sir Piers and Master Cedric have not disappointed me in their latest endeavor—"
Piers let out a boisterous hoot and toasted the Master of the Academy.
"—And I hope they continue to pull even larger numbers in the months that follow."
I swallowed nervously and glanced at Alex and Ella.
Download


Copyright Disclaimer:
This site does not store any files on its server. We only index and link to content provided by other sites. Please contact the content providers to delete copyright contents if any and email us, we'll remove relevant links or contents immediately.