Shoe Dog by Phil Knight
Author:Phil Knight , Date: April 29, 2016 ,Views: 3709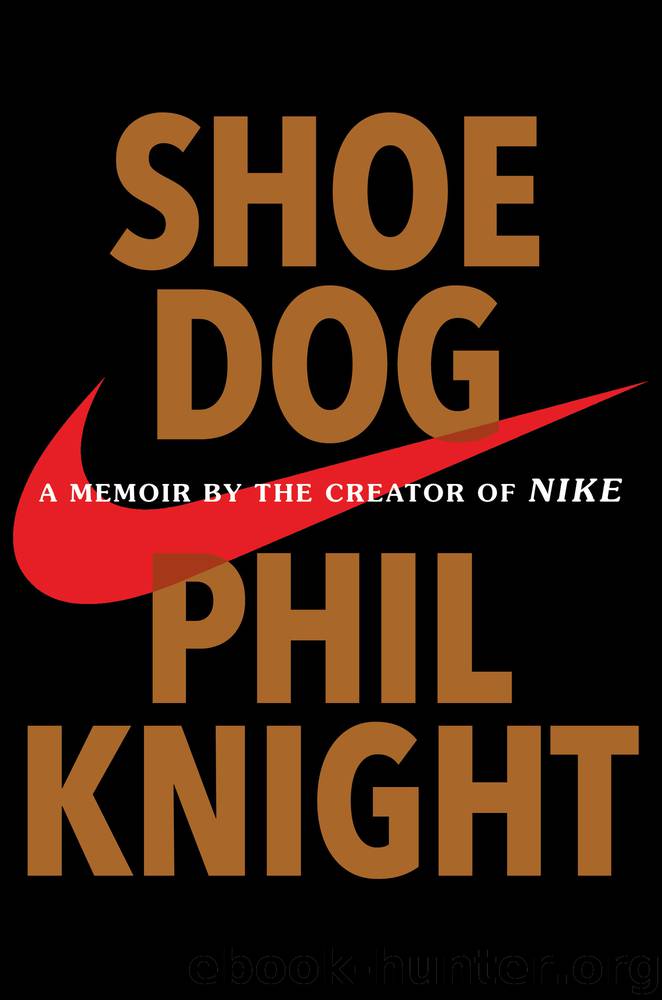 Author:Phil Knight
Language: eng
Format: epub, mobi
Publisher: Scribner



I'D BEEN IN Japan three weeks, longer than I expected, which posed two problems. The world was large, but the shoe world was small, and if Onitsuka got wind that I was in their "neighborhood," and didn't stop by, they'd know I was up to something. It wouldn't take much for them to find out, or figure out, that I was lining up their replacement. So I needed to go down to Kobe, make an appearance at Onitsuka's offices. But extending my trip, being gone from home another week, was unacceptable. Penny and I had never been apart that long.
I phoned her and asked her to fly over and join me for this last leg.
Penny jumped at the chance. She'd never seen Asia, and this might be her last chance before we were out of business and out of money. It might also be her last chance to use that matching pink luggage. And Dot was available for babysitting.
The flight was long, though, and Penny didn't like planes. When I went to the Tokyo airport to meet her, I knew I'd be collecting a fragile woman. I forgot, however, how intimidating Haneda Airport could be. It was a solid mass of bodies and baggage. I couldn't move, couldn't find Penny. Suddenly she appeared at the sliding glass doors of customs. She was trying to push forward, trying to get through. There were too many people—and armed police—on every side of her. She was trapped.
The doors slid open, the crowd surged forward, and Penny fell into my arms. I'd never seen her so exhausted, not even after she gave birth to Matthew. I asked if the plane had a flat tire and she'd gotten out to change it. Joke? Kitami? Remember? She didn't laugh. She said the plane hit turbulence two hours outside Tokyo and the flight was a roller coaster.
She was wearing her best lime-green suit, now badly wrinkled and stained, and she was the same shade of lime-green. She needed a hot shower, and a long rest, and some fresh clothes. I told her we had a suite waiting at the wonderful Imperial Hotel, designed by Frank Lloyd Wright.
A half hour later, when we pulled up to the hotel, she said she was going to use the ladies' room while I checked us in. I hurried to the front desk, got our room keys, and sat on one of the lobby sofas to wait.
Ten minutes.
Fifteen minutes.
I went to the door of the ladies' room and cracked it open. "Penny?"
"I'm frozen," she said.
"What?"
"I'm on the floor of the ladies' room . . . and I am frozen."
I went in and found her on the cold tiles, lying on her side, ladies stepping over and around her. She was having a panic attack. And severe leg cramps. The long flight, the chaos at the airport, the months of stress about Kitami—it was too much for her. I spoke calmly, told her everything would be fine, and gradually she unclenched. I helped her to her feet, guided her upstairs, and asked the hotel to send up a masseuse.
Download


Copyright Disclaimer:
This site does not store any files on its server. We only index and link to content provided by other sites. Please contact the content providers to delete copyright contents if any and email us, we'll remove relevant links or contents immediately.