Running Barefoot by Amy Harmon
Author:Amy Harmon [Harmon, Amy] , Date: January 11, 2015 ,Views: 2835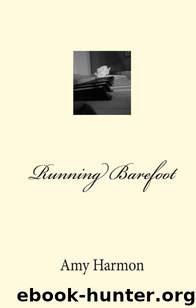 Author:Amy Harmon [Harmon, Amy]
Language: eng
Format: epub, mobi
ISBN: 9781475043747
Publisher: CreateSpace
Published: 2012-04-05T05:00:00+00:00



The day of graduation, May 28, saw us lined up with our classmates, marching down the aisle, and getting our diplomas. Alphabetical order put Jensen and Judd side by side, and we threw our caps into the air together. I was in the top ten in my class - I would have been Valedictorian had I tried. I made sure I wasn't. Graduating number three meant I wouldn't have to say one word into the microphone - I had no interest in giving a speech at graduation. I didn't shed any tears as people around me, including Kasey, hugged each other and cried nostalgically. High school had never been the pinnacle for me, and I was so ready for what came next….and what came next was Kasey and me, in church, in front of the whole town, saying "I do." When I was a little girl, I had watched the musical 'Seven Brides for Seven Brothers' eight million times, and I was going to be a June bride. We had the date set, the announcements printed, and my wedding dress, the dress my mother had worn when she married my dad, hanging in my closet where I could see it as I fell asleep each night.
The after graduation tradition was an all night party for the seniors at a water park in Provo, about 45 minutes North of Nephi. Kasey was sociable and loved to play, so I happily went along, though water parks and all-nighters that didn't involve books weren't really my thing. Afterwards, the graduates would load into a school bus and head back to the high school for a big pancake breakfast served up by some of the moms. Kasey had a job stocking shelves in the early morning hours at the Nephi grocery store. He had to work that morning, so my brother Johnny was going to swing by and grab me at the high school after his night shift at the power plant ended. Kasey had planned to grab a shower and a quick nap in the employee break room before his shift began.
As usual, we tried to postpone our parting to the last possible minute. It was just before 5:00 in the morning and Kasey didn't have to be to work until 6:30, so he decided he had plenty of time to run me home himself and still get a shower and a catnap. We'd called the power plant from the phone in the school office and Johnny had been paged to a nearby phone.
"I don't mind, Johnny," Kasey had said earnestly. Johnny had laughed at him.
"I'm sure you don't Kasey, and I know Josie doesn't," he said wryly, "but you two have had no sleep, it's 5:00 in the morning, I'll be ready to leave in 45 minutes, and there's no reason for you to take the extra trip."
Kasey reassured him and I cajoled, and before long we were on our way to Levan in Kasey's beat-up, green Ford. We liked the old car because it had a bench seat in front, and I could sit right next to him.
Download


Copyright Disclaimer:
This site does not store any files on its server. We only index and link to content provided by other sites. Please contact the content providers to delete copyright contents if any and email us, we'll remove relevant links or contents immediately.