Plain Protector by Alison Stone
Author:Alison Stone [Stone, Alison] , Date: May 29, 2016 ,Views: 1920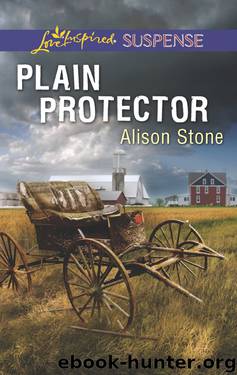 Author:Alison Stone [Stone, Alison]
Language: eng
Format: epub
Publisher: Harlequin
Published: 2016-05-20T16:00:00+00:00



SEVEN
Sarah and Nick waited two hours and then entered the hospital through the emergency-room doors. Under normal circumstances, Sarah would have never hoped for a busy ER when her mother was somewhere inside awaiting treatment. The crowded waiting room allowed her and Nick to slip in relatively unnoticed by the busy medical staff once Nick and she got past security with a flick of his badge. The wait was excruciating, but they had hoped the initial chaos of her mother's arrival—and the chance of running into Jimmy—had gone down exponentially.
Sarah had worked at this hospital a few years back as an intern in social work. She was familiar with the layout of the ER. She showed Nick a photo from her wallet of her mother. Separately, they each traveled down each side of the long hallway of examination rooms. When she spotted her mom in the last room, her heart stopped and her vision narrowed.
Sarah stared at her mother through the glass on the top half of the door. Her mother looked old and frail under the white sheet. Her face sunken. Her skin papery white. Her eyes closed. Tears blurred Sarah's vision, and she quickly swiped at them. She had to be strong.
Sarah glanced over at Nick, and he had just turned from looking in the last room on his side of the hallway. She nodded to him. Concern flashed in his eyes. He hustled across the hall to her and put a comforting hand on the small of her back. He didn't say anything. He didn't have to.
"I wonder if a doctor can answer any of our questions?" Sarah whispered.
"I'll find one. You go in and see your mother."
She nodded, suddenly feeling like the little girl who visited her dad one last time in the emergency room the night of his accident. She shoved the thought aside and pushed open the door. Her mother didn't move. Cold fear pulsed through her veins. What if this was the end?
Dear Lord, please don't let this be the end. I'm not ready. I need more time. Please watch over her.
Sarah moved to her mother's side. She took off her baseball cap and set it down on the edge of the bed, letting her long blond hair cascade over her shoulders. She felt ridiculous in the cap, but understood she needed to hide her identity.
As an afterthought, she glanced around the room, hoping there weren't security cameras and then decided for once she was going to put Jimmy out of her mind.
Dismissing her plight—she felt selfish at times—she took her mother's smooth, cool hand in her own. She studied her mother's wedding rings, something she hadn't taken off even though she had been a widow longer than she had been married.
"Mom," she whispered, emotion clogging her throat, "I love you."
"Love you, too," came her mother's quiet, raspy reply.
Sarah's eyes flashed to her mother's face. Her eyes were still closed, but her mother squeezed her daughter's hand. A faint squeeze, but a response all the same.
Download


Copyright Disclaimer:
This site does not store any files on its server. We only index and link to content provided by other sites. Please contact the content providers to delete copyright contents if any and email us, we'll remove relevant links or contents immediately.