Accepted by Pat Patterson
Author:Pat Patterson , Date: October 16, 2017 ,Views: 1694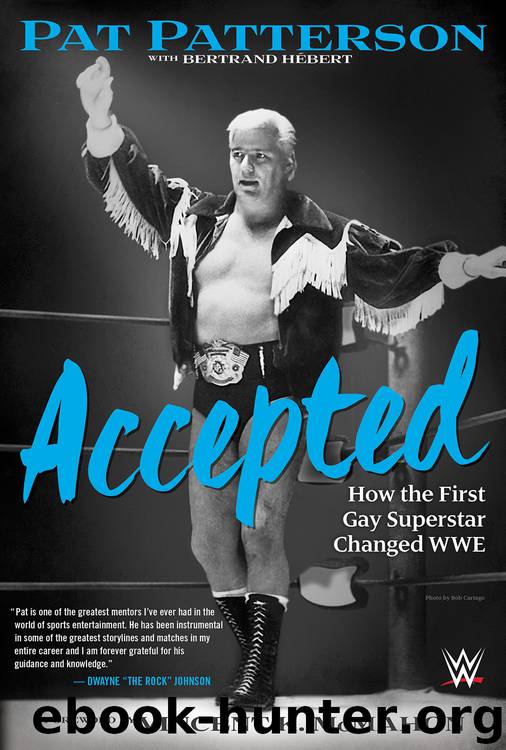 Author:Pat Patterson
Language: eng
Format: epub
Publisher: ECW Press
Published: 2016-08-01T04:00:00+00:00



NEW YORK! NEW YORK!
"Yes, there were times, I'm sure you knew, when I bit off more than I could chew"
As I've said, I craved a new challenge. Mike LeBell, the Los Angeles promoter, was good friends with Vince McMahon Sr. He suggested I contact Vince. I called and when Vince explained his plan for me I told him I would be there . . . tomorrow.
"No, no," he said. "I don't want any heat. Just wait. I will give you a date when I've talked it over with Verne."
I had met Vince Sr. for the first time a few years earlier in Las Vegas. Roy Shire was never a member of the National Wrestling Alliance but, as a courtesy, every year he was invited to attend their annual general meeting. They were hoping he would change his mind and join them. At very least, it kept relationships good for every­one. One year, Roy brought me with him. But because having a top talent sitting with all those promoters in "important" meetings was awkward, I ended up befriending Vince's wife, Juanita.
I was all dressed up and waiting for the last meeting of the day to end when I finally said, "We're not going to wait on them forever. Let's go to the bar and have some cocktails."
The promoters' wives all thought it was a fabulous idea. So we went to the bar and had a blast. I guess I was charming, and I was definitely making them laugh. I don't know why, but I was always very popular with the ladies. Juanita never got involved with the wrestling business, but I was the exception to the rule. She spoke the world of me to Vince Sr.
When he decided to bring me in a few years later, he planned for me to wrestle Bob Backlund for the World Heavyweight Championship. That was a new and exciting platform: to be in the main event on the grandest stage of them all. Guys who were my size didn't usually come to New York to challenge for the championship. As I said, I was not contacted directly. Back then, they were very cautious about things like that. That's something that would change when Vince Jr. took over — but that's a story for later.
When I first showed up in New York, Vince Sr. asked his right-hand man, Arnold Skaaland, to take care of me and show me around his territory. When André the Giant was on the same card, we traveled together. Talk about getting drunk — we were quite the trio. Arnold could really hold his liquor and even go toe-to-toe with André. He was one of the few who could honestly say that. Arnold could also find a place to buy beer in any town, any day, any time. One time, we drove up to a house in the middle of nowhere and I was sure we were just dropping in on a friend. No, he knew we could buy beers there. Those were the days: he had been in the territory for years, yet I was still impressed.
Download


Copyright Disclaimer:
This site does not store any files on its server. We only index and link to content provided by other sites. Please contact the content providers to delete copyright contents if any and email us, we'll remove relevant links or contents immediately.