Cecilia; Or, Memoirs of an Heiress — Volume 1 by Fanny Burney
Author:Fanny Burney [Burney, Fanny] , Date: March 26, 2014 ,Views: 30844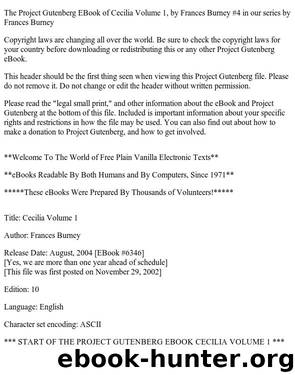 Author:Fanny Burney [Burney, Fanny]
Language: eng
Format: epub, mobi
Tags: Unread
Publisher: Project Gutenberg
Published: 2004-07-31T16:00:00+00:00



CHAPTER viii
A TETE A TETE.
The two following days had neither event nor disturbance, except some little vexation occasioned by the behaviour of Sir Robert Floyer, who still appeared not to entertain any doubt of the success of his addresses. This impertinent confidence she could only attribute to the officious encouragement of Mr Harrel, and therefore she determined rather to seek than to avoid an explanation with him. But she had, in the mean time, the satisfaction of hearing from Mr Arnott, who, ever eager to oblige her, was frequent in his enquiries, that Mr Belfield was almost entirely recovered.
On Thursday, according to her appointment, she again went to St James' Square, and being shewn into the drawing-room till dinner was ready, found there only young Mr Delvile.
After some general conversation, he asked her how lately she had had any news of Mr Belfield?
"This morning," she answered, "when I had the pleasure of hearing he was quite recovered. Have you seen him again, sir?"
"Yes madam, twice."
"And did you think him almost well?"
"I thought," answered he, with some hesitation, "and I think still, that your enquiries ought to be his cure."
"O," cried Cecilia, "I hope he has far better medicines: but I am afraid I have been misinformed, for I see you do not think him better."
"You must not, however," replied he, "blame those messengers whose artifice has only had your satisfaction in view; nor should I be so malignant as to blast their designs, if I did not fear that Mr Belfield's actual safety may be endangered by your continual deception."
"What deception, sir? I don't at all understand you. How is his safety endangered?"
"Ah madam!" said he smiling, "what danger indeed is there that any man would not risk to give birth to such solicitude! Mr Belfield however, I believe is in none from which a command of yours cannot rescue him."
"Then were I an hard-hearted damsel indeed not to issue it! but if my commands are so medicinal, pray instruct me how to administer them."
"You must order him to give up, for the present, his plan of going into the country, where he can have no assistance, and where his wound must be dressed only by a common servant, and to remain quietly in town till his surgeon pronounces that he may travel without any hazard."
"But is he, seriously, so mad as to intend leaving town without the consent of his surgeon?"
"Nothing less than such an intention could have induced me to undeceive you with respect to his recovery. But indeed I am no friend to those artifices which purchase present relief by future misery: I venture, therefore, to speak to you the simple truth, that by a timely exertion of your influence you may prevent further evil."
"I know not, Sir," said Cecilia, with the utmost surprise, "why you should suppose I have any such influence; nor can I imagine that any deception has been practiced."
"It is possible," answered he, "I may have been too much alarmed; but in such a case as this, no information ought to be depended upon but that of his surgeon.
Download


Copyright Disclaimer:
This site does not store any files on its server. We only index and link to content provided by other sites. Please contact the content providers to delete copyright contents if any and email us, we'll remove relevant links or contents immediately.