Terrorist Cop by Mordecai Dzikansky & ROBERT SLATER
Author:Mordecai, Dzikansky & ROBERT SLATER , Date: December 18, 2017 ,Views: 1593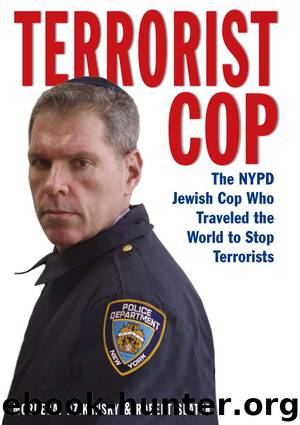 Author:Mordecai, Dzikansky & ROBERT SLATER
Language: eng
Format: epub
Publisher: Barricade Books



TOP-SHELF GUARDS
What I took away from their training was an appreciation of the professional level of these guards. They were top-shelf and Israel was getting them on the cheap. These were men in their twenties who had recently completed a three-year stint in the Israeli army in combat roles. They remained attached to the army, serving in the reserves for one month a year.
In New York the same guy would have had to be paid $50 an hour. Here they were probably getting $10 an hour. The guards were young, in good shape, and really good at their jobs. The day after the attack a photo of the one Israeli killed in the incident—the security guard at the entrance—ran in the newspapers. I remembered him from that day of training.
It intrigued me that the only person who died in the Kfar Saba attack was the security guard. At first I could not understand how so few people were killed. Had the railroad station been suddenly closed? Was it not crowded outside the station?
Then I thought of the training session I had attended and I realized that the reason for so few casualties was the professionalism of that security guard: He had done his job so well, establishing an aggressive presence outside the railroad station, confronting the terrorist, not permitting him to move one step further toward the train station.
The guard gave the terrorist no other choice but to blow himself up at a time and in an area where few people had gathered.
When I got home after the bombing that day, I sat down at my computer, wrote a report, and sent it off to New York. It took several hours and I knew I was consuming too much time but I could think of no other option at the moment.
The reports that I would write for the NYPD, while detailed from the start, would eventually include lessons that I had learned from my visits to the suicide bombing sites. To properly determine what those lessons were, I made a point of not shooting from the hip during my early reports. As I grew more confident because of what I had seen at the sites, I infused my reports with a whole set of lessons learned.
Download


Copyright Disclaimer:
This site does not store any files on its server. We only index and link to content provided by other sites. Please contact the content providers to delete copyright contents if any and email us, we'll remove relevant links or contents immediately.