Stone's Rules by Roger Stone
Author:Roger Stone , Date: May 8, 2018 ,Views: 4153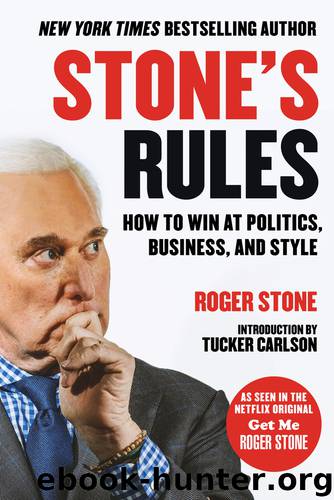 Author:Roger Stone
Language: eng
Format: epub
ISBN: 9781510740099
Publisher: Skyhorse Publishing
Published: 2018-04-16T04:00:00+00:00



STONE'S
RULE
#66
NEVER TURN DOWN A MAJOR PARTY NOMINATION.
When Christine Todd Whitman, daughter of longtime Nixon friend, backer, and Eisenhower intimate Webster Todd Sr., told former president Richard Nixon that she could get the Republican nomination for US Senate from New Jersey against former NBA and then-current political superstar Bill Bradley, the old man told her to go for it.
"You never know what will happen and the political atmosphere can change in a second," said the "Sage of Saddle River," as Nixon came to be known in dispensing his wisdom from his modest residence in the New Jersey town of that name.
Bradley got caught in a Democratic downwash in the fall out of Governor Jim Florio's disastrous tripling of the state's income tax and just barely topped Whitman in a true squeaker of an election.
Whitman had lost, but instantaneously became the odds-on favorite for Governor in the the following year's race. Whitman took her shot, defeated a former attorney general in the GOP primary and then, in a major upset, beat the tax-hiking Democrat Florio.
No political aspirant can harm their long-term political prospects by becoming a major party nominee for any statewide or national office. Barring any serious gaffes, a truly horrible campaign, or a permanently damaging scandal, even if the candidate loses, they will become a party favorite for the next major office to open up.
They will also have gained the invaluable experience of a running a full-fledged campaign all the way to the finish line and, unless their loss was an embarrassing blowout, will have a significant fundraising advantage right from the outset of their next bid. On the upside, they may actually win the race.
Turning down such an opportunity risks the candidate's appearing to be any number of undesirable things, depending on the circumstances, from vain to craven to disloyal to self-serving to unsure to unreliable. Even if the candidate had every good reason to sit out the race, if the party is left in a lurch as a result or has to scramble to find a credible nominee, the party faithful will not soon forget, especially when the candidate comes back around, looking for the nomination of their choice.
A major party nomination for high office is a prize not to be tossed aside lightly. Do so at your own peril.
Download


Copyright Disclaimer:
This site does not store any files on its server. We only index and link to content provided by other sites. Please contact the content providers to delete copyright contents if any and email us, we'll remove relevant links or contents immediately.