The Farm by Tom Rob Smith
Author:Tom Rob Smith [Smith, Tom Rob] , Date: March 25, 2014 ,Views: 3562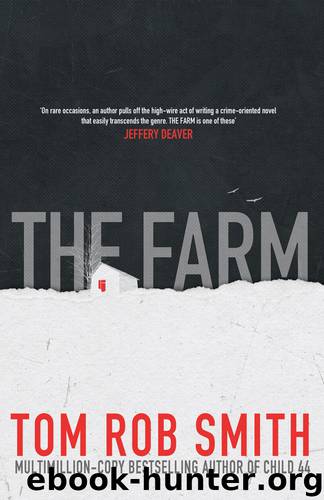 Author:Tom Rob Smith [Smith, Tom Rob]
Language: eng
Format: epub, mobi
Tags: Thriller, Ebook Club, Fiction, Top 100 Chart
ISBN: 9781471110672
Google: 6TgGAQAAQBAJ
Publisher: Simon and Schuster
Published: 2014-02-12T22:00:00+00:00



THE IDEA OF MY MUM AND DAD caught up in a scene of domestic violence was incomprehensible to me. Yet I now believed the inevitability of them coming to blows if they came face to face.
'Mum, we're leaving now.'
My mum double-checked to see if she'd left any evidence behind. The temptation to glance at my phone was powerful, but her movements were so erratic I was worried about being caught. I waited until she descended the stairs, following behind. I couldn't hold off any longer. I looked down at the screen.
The phone displayed a list of possible search results. They were from Swedish newspapers. I was shocked. I must have expected to see no results, no newspaper articles – a blank page. Though I'd promised to be objective and open-minded, deep down I must have believed that nothing had really happened and that Mia wasn't dead. I clicked on the top link. The page began to load. A fragment of image trickled down. I couldn't chance it any longer. I lowered the phone, sinking it into my pocket, just in time, as my mum turned around at the bottom of the stairs. I reached out and touched her shoulder, with no idea where we were going:
'Mum, where shall we go? You don't feel comfortable talking in public.'
'We can decide where later. We have to leave now.'
'And just stand on the street?'
My mum snapped:
'Are you trying to delay me? Is that your plan? Are you stalling so Chris can catch me?'
'No.'
'You're lying!'
The allegation was sharp.
'I don't want to see you fight with Dad. I want to hear the end of your account. That's the truth.'
My mum opened the front door. We left, walking out into the corridor. As though she were being pursued, my mum repeatedly pressed the call button for the lift. When she saw that it was rising up from the ground floor she stepped back:
'He might be in the lift! Let's take the stairs.'
I didn't argue, following her into the emergency stairway, where she hurried down, almost running. I called out, my voice echoing around the concrete space:
'Mum, I'm calling Mark. He has an office. Maybe he'll know somewhere we can talk. We need somewhere private.'
My mum replied:
'Hurry!'
I took out my phone and studied the screen. The local Swedish newspaper article was about Mia. There was a picture of her, just as my mum had described. The article declared that she was a missing person. I scrolled down. There was a reward for information. The article wasn't conclusive. It hadn't talked about a murder. But a missing person often preceded a murder. Nothing in the article contradicted my mum's account.
I dialled Mark. He picked up immediately. I said:
'My dad's on his way. His plane has landed. My mum won't stay in the apartment. We need another place to talk. Somewhere private. Somewhere my dad can't find us.'
'Are you sure you don't want to wait for him?'
'It would be a disaster.'
Mark found the solution immediately:
'I'll book you a hotel room.
Download


Copyright Disclaimer:
This site does not store any files on its server. We only index and link to content provided by other sites. Please contact the content providers to delete copyright contents if any and email us, we'll remove relevant links or contents immediately.