Rise and Kill First by Ronen Bergman
Author:Ronen Bergman , Date: February 2, 2018 ,Views: 3628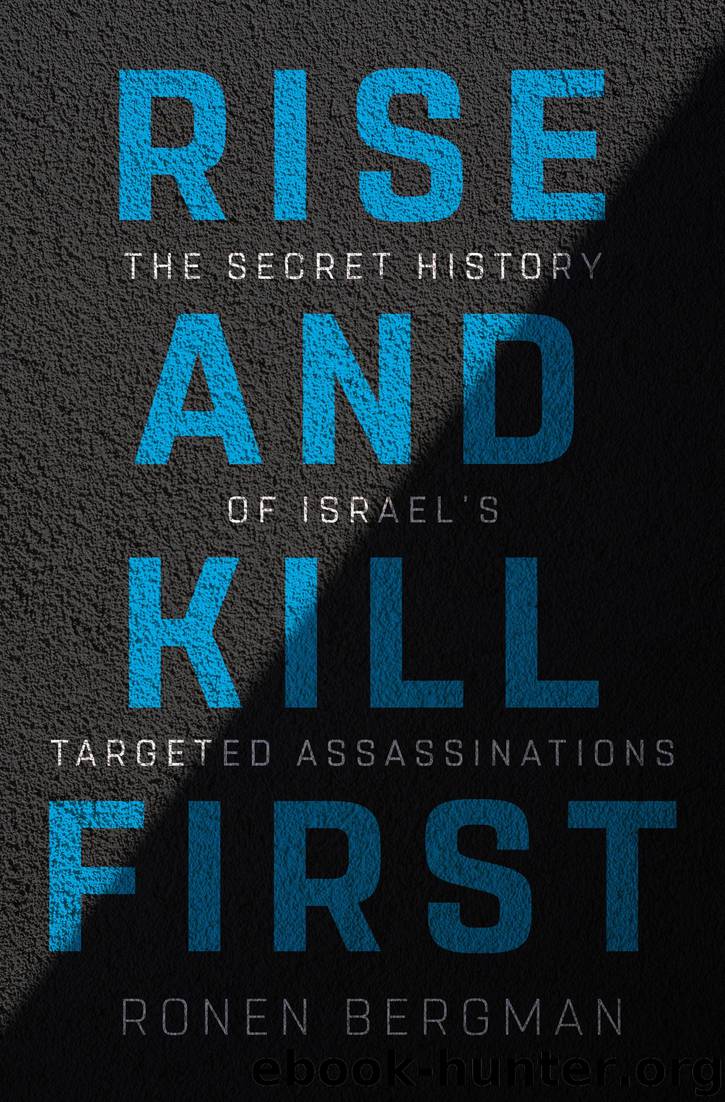 Author:Ronen Bergman
Language: eng
Format: epub
Publisher: Random House Publishing Group
Published: 2018-01-30T05:00:00+00:00



TWO BUSES, ONE FULL of Israeli soldiers, were parked in the lot of a roadside kiosk near Mehola, a settlement in the Jordan Valley, on April 16, 1993. After a little while, a car pulled off the road and slipped up close to the buses.
Then it exploded.
Set against the damage the terrorist intended to inflict, the actual number of casualties was fortunately relatively low. A Palestinian from the nearby village, who worked in a snack bar, was killed, and eight people were lightly wounded. But Shin Bet investigators noted that inside the car were the charred remains of its driver, along with cooking-gas cylinders used as explosive material. A suicide bomber.
By now, suicide attacks were common enough, but up until this point, they had all occurred in other places, not Israel. The Mehola attack began a wave of such bombings inside Israel. Within a year, suicide bombers were blowing themselves up all over the country. In eleven months, they killed more than one hundred Israelis and wounded more than a thousand.
Shin Bet's top officials tried to understand where they had erred, and how the situation had become so horrific. They started tracing most of the attacks back to just three men. But two of them, Ahmed Yassin and Salah Shehade, were in Israeli prisons. And the third, Yahya Ayyash, was in Poland, or so they believed.
The Israelis had no idea how these three managed to communicate with each other, let alone how they had explosive devices prepared and how they successfully recruited and dispatched so many suicide bombers.
—
YASSIN WAS BORN IN the Palestinian village of Al-Jura, and became a refugee in the 1948 war, ending up in the Egyptian-ruled Gaza Strip with his family. Like many young Palestinians, he joined the Muslim Brotherhood, where he met another refugee, two years older, by the name of Khalil al-Wazir, the charismatic leader who became known as Abu Jihad. Al-Wazir feared that being identified with the Brotherhood, then in conflict with the Egyptian government, could be an obstacle in his path, and he abandoned it to go his own way. But Yassin, quiet and introverted, felt that he had found his life's true vocation, and he turned out to be a prodigy of Islamic studies.
After the Arab defeat in the Six-Day War of 1967, while al-Wazir launched a huge campaign of guerrilla warfare against Israel, believing that only force would finally destroy Israel, Yassin came to a different conclusion. He believed that the Arab defeat was the result of their own moral failings, and that secular and decadent regimes had strayed too far from Allah. Redemption, therefore, was to be found in devotion to Islam. "Al-Islam hua al-Khal," he said repeatedly—"Islam is the solution"—echoing in Arabic the same slogan Ruhollah Khomeini had used to rouse his followers in Farsi.
In the late 1960s and early '70s, in an effort to build a movement based on Islamic values, with himself as its leader, Yassin set up mosques and Islamic educational institutes, as well as a network of welfare and social assistance bodies.
Download


Copyright Disclaimer:
This site does not store any files on its server. We only index and link to content provided by other sites. Please contact the content providers to delete copyright contents if any and email us, we'll remove relevant links or contents immediately.