Bombshells: Glamour Girls of a Lifetime by Sullivan Steve
Author:Sullivan, Steve [Sullivan, Steve] , Date: September 10, 2017 ,Views: 12790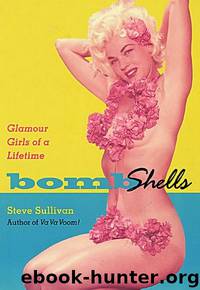 Author:Sullivan, Steve [Sullivan, Steve]
Language: eng
Format: epub
Publisher: St. Martin's Press
Published: 1998-06-15T00:00:00+00:00



"One day I noticed that a local theater was showing Beyond the Valley of the Dolls at midnight, and I suggested that we go see it. He knew about my background, but not a lot. During my scenes in the movie with Erica Gavin I could tell from his body language that he was uncomfortable. When we walked out of the theater he looked crushed, as if his Labrador had been run over by a truck. He looked at me and said, 'Did you have an orgasm with Erica?'
"He said, 'I know you pretty well, and I know I could never satisfy you like Erica did in the movie.' I tried to lighten the mood by saying, 'You've paid me a great compliment as an actress. I thought [the orgasm] would be good for the scene.' But instead of being proud of me as an actress or appreciating it as a hot movie scene, his masculinity was threatened. Making love with him after that was never the same, because he felt he could never match Erica. He told me, 'I'll always love you, but I've got to break off the engagement.' I cried for weeks afterward, but I got over it."
In 1981, Cynthia set off on an extended car trip to "think about what I wanted to do." She went to Las Vegas, and planned to drive by the Grand Canyon and then up to Aspen to visit a girlfriend. "I wasn't on any schedule — I wanted to enjoy my new-found freedom." Then she met "a very nice man" named Mike Spence, who worked for the government. "He was giving me directions to Lake Mead, then we started talking and he asked if I'd like to go fishing. We went fishing together, and I never did make it to Aspen." They fell in love, and were soon married. Mike now works for the Northrop Corporation as an engineer on the B-2 Stealth bomber. On February 24, 1983, their son Robert was born, and Cynthia is very much the devoted mother.
Cynthia had been completely away from Playboy and show business for two decades when her husband suggested that she get back in touch with the magazine. "He said, 'You're in good shape, you look great — why don't you call them?' So I called their offices, just to let them know that I'm here and I'm available. Then, five days later, they asked me if I'd like to sign autographs at Glamourcon." Since her first appearance in 1994 at the national glamour and pinup convention, which is now cosponsored by Playboy, the semiannual show has become an important part of her life for reconnecting her to fans and to Playmate friends like DeDe Lind and Patti Reynolds.
"It was such a pleasure to have so many fans tell me how much I meant to them. After living up in the desert away from the entertainment field for so many years, this has been a real treat." One of the highlights of Glamourcon for Cynthia was her reunion with Hugh Hefner.
Download


Copyright Disclaimer:
This site does not store any files on its server. We only index and link to content provided by other sites. Please contact the content providers to delete copyright contents if any and email us, we'll remove relevant links or contents immediately.