Year of Yes by Shonda Rhimes
Author:Shonda Rhimes , Date: November 27, 2015 ,Views: 3939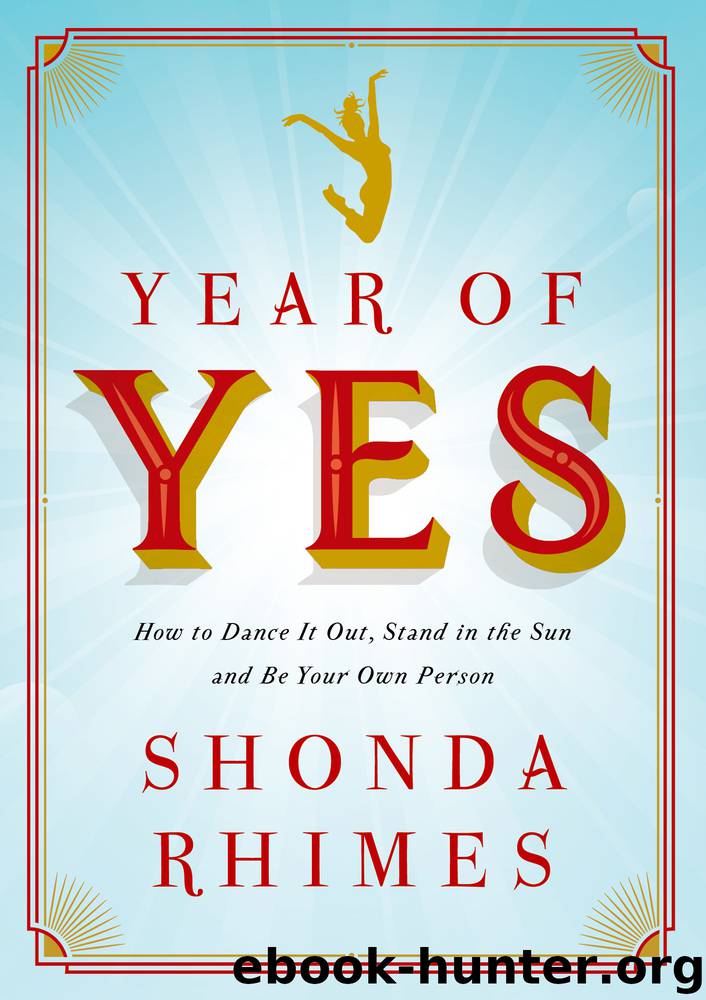 Author:Shonda Rhimes
Language: eng
Format: epub, mobi
Publisher: Simon & Schuster



9
Yes to Joining the Club
About a year into my Year of Yes, Chris #1 calls to tell me that I'm being awarded the Hollywood Reporter's Sherry Lansing Award at the annual Women in Entertainment breakfast. He keeps his tone soothingly soft, the mellow tones of a psychiatric nurse, as he informs me that I will have to give a speech.
Then he waits for me to freak out.
This speech is not your average speech. The Dartmouth commencement was a big deal, yes. But this. This is not a crowd of Dartmouth graduates looking to the future, looking for wisdom. This is not a gaggle of hopeful and happy parents just thrilled they are done paying hundreds of thousands of dollars in tuition.
It's right in the title: this speech is for women in entertainment. These are powerful women in entertainment. You know how I know this? The Hollywood Reporter releases a list to go with this event. It's called the Power 100.
Some of the women who will be in that room listening to my speech are legends. Sherry Lansing herself will be in that room.
Chris waits for me to start yelling. He waits for chicken-bone-Janet-Jackson-Boob-fear-snot hollering in his ear. I'm quiet a long moment. Then:
"Okay," I say.
"Okay?" He sounds confused. "Okay like . . . okay, fine?"
"Yeah. Okay, fine."
Chris thinks perhaps I do not understand.
"You have to GIIIIVE A SPEEEECH." He says it slowly. Loudly. Like my hearing is going. Like I really am old.
But I heard him. And I am nervous. But it is time.
This is a room full of women. Powerful women. I am on the list. Theoretically, I am one of these powerful women. Theoretically, these are my peers. And yet . . .
I don't actually know a single woman on the list. What this really is? Is a room full of strangers. Powerful strangers.
I have been enjoying this year in a way I haven't enjoyed life in a long time. I'm excited and I'm vibrant and I'm feeling alive. I've made progress, I've gotten so much better at this but I have no friends in the industry outside the ones who work on my shows. Everyone I know works for me or with me. I am a powerful woman who knows no powerful women.
I am on the list but I am not of the list.
Chicken bone, Janet Jackson Boob, fear-snot, y'all.
I have too long been a turtle in my shell with my sisters in the industry.
It is time to stop standing at the edges of rooms. Hugging the walls. Living in my head. Wishing I had something to say. If there's one thing I have learned from all of Chris's Sisyphean pushing and all of this saying Yes it's that if I don't poke my head out of my shell and show people who I am, all anyone will ever think I am is my shell.
It is time to take my place on the list.
Download


Copyright Disclaimer:
This site does not store any files on its server. We only index and link to content provided by other sites. Please contact the content providers to delete copyright contents if any and email us, we'll remove relevant links or contents immediately.