Born a Crime by Trevor Noah
Author:Trevor Noah , Date: February 24, 2017 ,Views: 3942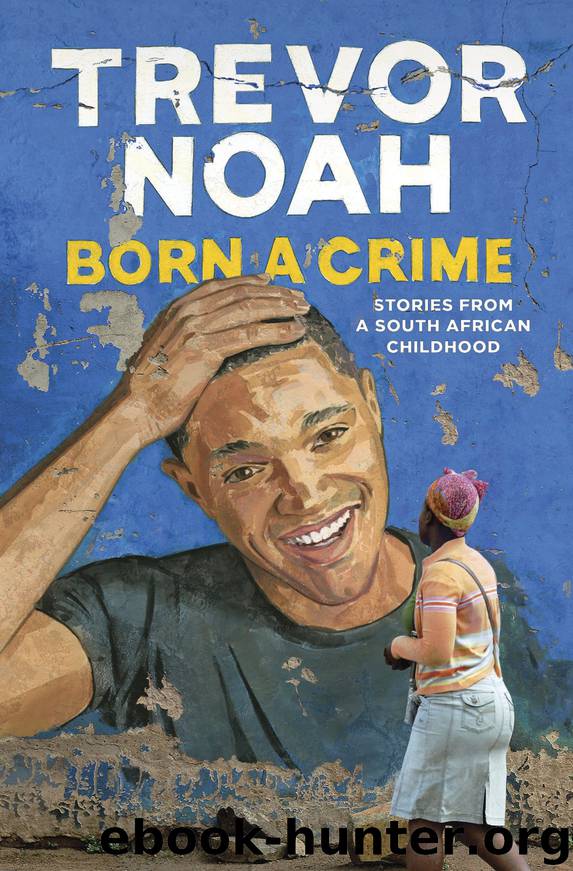 Author:Trevor Noah
Language: eng
Format: epub, mobi, azw3
Publisher: Random House Publishing Group
Published: 2016-11-14T16:00:00+00:00



COLORBLIND
At Sandringham I got to know this one kid, Teddy. Funny guy, charming as hell. My mom used to call him Bugs Bunny; he had a cheeky smile with two big teeth that stuck out the front of his mouth. Teddy and I got along like a house on fire, one of those friends where you start hanging out and from that day forward you're never apart. We were both naughty as shit, too. With Teddy, I'd finally met someone who made me feel normal. I was the terror in my family. He was the terror in his family. When you put us together it was mayhem. Walking home from school we'd throw rocks through windows, just to see them shatter, and then we'd run away. We got detention together all the time. The teachers, the pupils, the principal, everyone at school knew: Teddy and Trevor, thick as thieves.
Teddy's mom worked as a domestic for a family in Linksfield, a wealthy suburb near school. Linksfield was a long walk from my house, nearly forty minutes, but still doable. Walking around was pretty much all I did back then, anyway. I couldn't afford to do anything else, and I couldn't afford to get around any other way. If you liked walking, you were my friend. Teddy and I walked all over Johannesburg together. I'd walk to Teddy's house and we'd hang out there. Then we'd walk back to my house and hang out there. We'd walk from my house down to the city center, which was like a three-hour hike, just to hang out, and then we'd walk all the way back.
Friday and Saturday nights we'd walk to the mall and hang out. The Balfour Park Shopping Mall was a few blocks from my house. It's not a big mall, but it has everything—an arcade, a cinema, restaurants, South Africa's version of Target, South Africa's version of the Gap. Then, once we were at the mall, since we never had any money to shop or watch movies or buy food, we'd just wander around inside.
One night we were at the mall and most of the shops were closed, but the cinema was still showing movies so the building was still open. There was this stationery shop that sold greeting cards and magazines, and it didn't have a door, so when it closed at night there was only a metal gate, like a trellis, that was pulled across the entrance and padlocked. Walking past this shop, Teddy and I realized that if we put our arms through the trellis we could reach this rack of chocolates just inside. And these weren't just any chocolates—they were alcohol-filled chocolates. I loved alcohol. Loved loved loved it. My whole life I'd steal sips of grown-ups' drinks whenever I could.
We reached in, grabbed a few, drank the liquor inside, and then gobbled down the chocolates. We'd hit the jackpot. We started going back again and again to steal more. We'd wait for the shops to start to close, then we'd go and sit against the gate, acting like we were just hanging out.
Download


Copyright Disclaimer:
This site does not store any files on its server. We only index and link to content provided by other sites. Please contact the content providers to delete copyright contents if any and email us, we'll remove relevant links or contents immediately.