Six Wakes by Mur Lafferty
Author:Mur Lafferty , Date: March 23, 2017 ,Views: 4811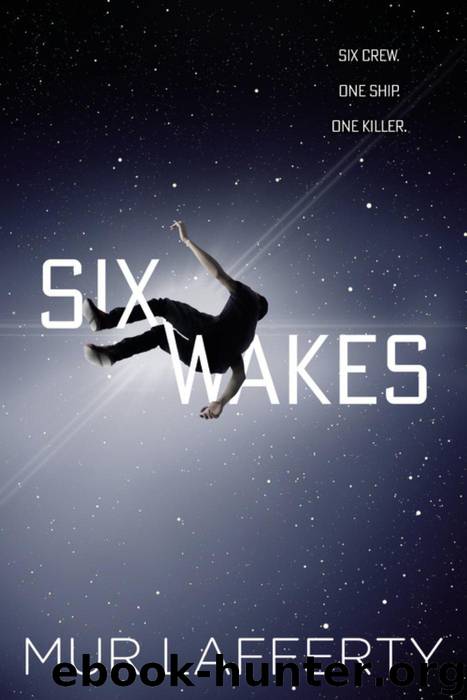 Author:Mur Lafferty
Language: eng
Format: epub, azw3
Publisher: Orbit
Published: 2017-01-30T16:00:00+00:00



One call to a caretaker for Jerome, one call to the private stable hand who managed Sallie's fleet of self-driving cars, one call to the airport, and the donning of a leather jacket over Maria's dirty sweatshirt later, and Maria and Sallie were gliding through New York City traffic toward JFK.
"Don't you want to tell your kids good-bye?" Maria asked.
"I had a feeling I would be going on a trip today, so they already know."
"How did you know you'd be coming back with me?"
"I have studied you, Maria. I'm not in the practice of hiring fools. I knew you wouldn't want to work on my network."
They went through a cursory security check done for the very powerful, and then they were in first class.
"Why didn't you bring Jerome to see me, if you knew you'd be coming to Florida?" Maria asked.
"Because I wanted to meet you first," Sallie said. "Easier that way, in case I was wrong about you."
"I'm surprised you don't have your own jet. Don't you own all of Firetown?" Maria asked.
"I don't like to fly. I don't see any point in spending more on flight than I need to." Sallie accepted both mimosas offered by the flight attendant. She downed one and held the other one, not passing it to Maria.
Maria wondered if she had left her apartment clean this morning.
"Do you like living in Florida?" Sallie asked, holding her hand up to the flight attendant. "Two mimosas for my friend here."
"Yes, Ms. Mignon," he said deferentially.
"It's nice," Maria said. "I'm close enough to Cuba to visit easily but far enough away that my family doesn't get uncomfortable."
Sallie laughed. "You still have family?"
"Sure, we all do. I never had kids, but occasionally a great-great-great-nephew or -niece will seek me out and ask for a favor."
"Parasites," Sallie said.
Maria shook her head. "Family. It's usually no problem for me to help them out."
"You're generous," Sallie said. "I wouldn't be such a pushover. It doesn't teach them anything."
"Why do I have to teach them anything?" Maria asked. "Does every encounter need to teach them something?"
She took the offered mimosas and drank one quickly, then nursed the second one. The attendant came back to retrieve their empty glasses, and they sat in silence through the flight safety information. Sallie watched the attendant; Maria watched Sallie, amazed to see someone be so focused on the oft-repeated information.
The plane shuddered slightly as it rose into the air. Sallie kept her eyes on the seat in front of her. "People are like dogs," she said as if they hadn't broken the conversation. "Every moment teaches them something. They whine at the door, you let them out because the whining is annoying you, they learn that whining opens the door. You give them a treat before your evening glass of wine, then the dog learns that when that bottle comes out, a treat is supposed to follow it."
"And if you give a relative some money, do you teach them not to work? Is that your opinion of charity and gifts in general?" Maria asked.
Download


Copyright Disclaimer:
This site does not store any files on its server. We only index and link to content provided by other sites. Please contact the content providers to delete copyright contents if any and email us, we'll remove relevant links or contents immediately.