The Break by Marian Keyes
Author:Marian Keyes , Date: September 25, 2017 ,Views: 8313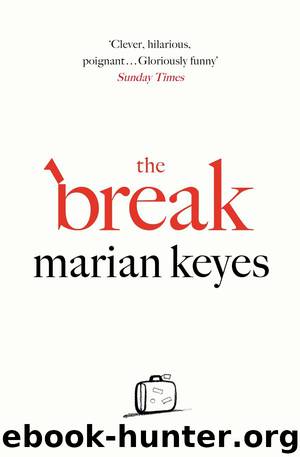 Author:Marian Keyes
Language: eng
Format: epub, mobi, azw3
ISBN: 9781405918770
Publisher: Penguin Books Ltd
Published: 2017-07-14T04:00:00+00:00



55
I can't drive home, I've had far too much to drink, so I set off on foot in my too-high shoes. When I'm safely away from my Bechdel-Test-failing lunch companions, tears start streaming down my face.
I handled that really badly. I'm ashamed but I'm also resentful. I'm defensive but I'm also sad. Steevie and I have been friends for a long time and suddenly it's gone to shit. Is everything going to fall apart? Is Hugh's leaving the start of a major life unravelling?
I hate confrontation, I hate ill-feeling, and I'm shaky and nauseous.
I hobble on in my wrong shoes and, passing Marley Park, I decide to give my poor feet a break, maybe even sober up.
There's a bench near a huge big tree – it might be an oak – and I sit down for a few minutes. Before my eyes, a leaf detaches from its branch and eddies to the ground. Game over for that one. And here's another, already dark and crisping. And another. And another. All of them dying, like it's raining leaves, raining death, and I miss Hugh, I miss him so much. I'd give all that I own just to go home and find him there, just knocking about the house, reading the paper, listening to music.
Hugh would provide an antidote to the snarly mess with Steevie. He'd pull me on to his lap and hug me, offering the warmth of his body to counteract the coldness in my gut. He'd let me rant, and he might even offer a calm counter-argument. But he's not here.
And it's a lot longer than six weeks that he's been unavailable to me. It's suddenly obvious that when he got the news his dad was dying, in August of last year, he checked out.
I'd found him in our bedroom, sitting stiffly on the bed, and the look on his face – strange and cold – made me think, He's found out about Josh. Even though it was over a month since I'd ended things with him, my guilt was never far from the surface.
'What's wrong?'
'Dad. He's sick.' Hugh's expression wasn't coldness, but shock, terrible shock – my guilt was distorting reality.
'What kind of sick?'
Cancer. I knew before he even said it.
'His lungs. It's bad, Amy.'
'But chemo –'
'No. He's … dying. He's going to die.'
This wasn't a time for platitudes. 'Tell me.'
'Three months.'
'It could be longer – doctors often get it wrong.'
'In three months my dad will be dead.' Hugh frowned and muttered, 'Twelve weeks' time. That's weird.'
When his mum, Sandie, had died eight years earlier, it had been a bitter, bitter thing. She'd been sixty-two, which was shockingly young, and she'd been such a wonderful person – warm, sensible, solid. She'd really been the heart of their home.
But within a year or so, the Durrants had rearranged themselves around her appalling absence, forming themselves into a new unit, possibly even tighter than before, always acknowledging their loss, but a family once again.
It might be odd to say but
Download


Copyright Disclaimer:
This site does not store any files on its server. We only index and link to content provided by other sites. Please contact the content providers to delete copyright contents if any and email us, we'll remove relevant links or contents immediately.