The Great Music City by Andrea Baker
Author:Andrea Baker , Date: February 22, 2021 ,Views: 16668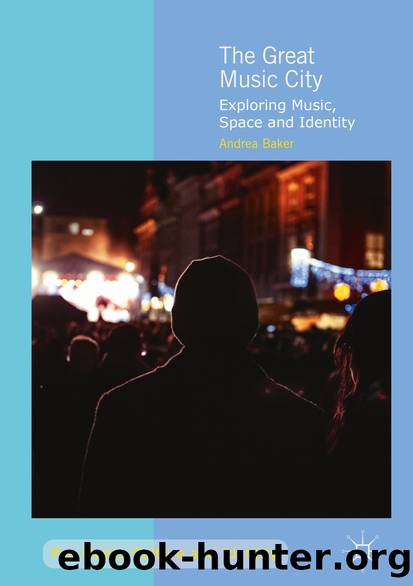 Author:Andrea Baker
Language: eng
Format: epub
ISBN: 9783319963525
Publisher: Springer International Publishing



Stage 4: 1970s–1980s (Punk and Post Punk Scene)
The 1970s and 1980s was a high time for its urban sociability, as "the punk and post-punk took off in Berlin", highlights Ellinghaus from City Slang records (Baker, 2013d). As Froese notes, "Iggy Pop brought DIY punk music into Berlin and that was 1976". Pop also encouraged local post-punk bands such as "Einstürzende Neubauten, Rammstein, and the Australian band, The Birthday Party to follow suit", Froese adds. (Baker, 2014c) Steinhof from 4 Artists expands on his point, "The punks were living in West Berlin's tenement squats in Kreuzberg, Schonberg and Neukolln" (Baker, 2013a), while music researcher and urban activist, Ingo Bader notes that "The post-punk scene was a very small subculture." (Baker, 2013i). During the 1980s "there were a few well-known West Berlin bands", says Franke from the Berlin-based Capital Media and Music Company (Baker, 2013l). Bader contends that Einstürzende Neubauten were one of them, "The band was important, but not just musically or visually, but on the urban level" (Baker, 2013i). Like Tangerine Dream during the 1960s, the divided city of Berlin and its isolation from the western world during the 1980s encouraged Einstürzende Neubauten to push experimental music. Melbourne-musician Wednesday who played with Einstürzende Neubauten from the early 1990s to early 2000s highlighted that "Einstürzende means collapsing, tearing down and still pushing the envelope, while Neubauten were the commission flats in Berlin that were built to house displaced person after the Second World War". As Wednesday elaborates, "Einstürzende Neubauten's (hence Collapsing Building's) music sounds consisted of heavy power supply creative with sound-making and sampling." (Baker, 2014a). Besides Wednesday, "the band consists of Blixia Bargeld (lead singer, guitar and keyboards); Andrew Unruh (percussionist ), Alexander Hacke (bass , vocals) and Rudolf Moser (custom-built instruments, vocals and percussion)". Wednesday continued, "Musically, I put Einstürzende Neubauten over and above Bowie, Pop or Cave (Baker, 2014a)." However, as Ellinghaus from City Slang Records adds, "A lot of German musicians have an inferiority complex, but yes, Einstürzende Neubauten were an institution in West Berlin" (Baker, 2013d).
Download


Copyright Disclaimer:
This site does not store any files on its server. We only index and link to content provided by other sites. Please contact the content providers to delete copyright contents if any and email us, we'll remove relevant links or contents immediately.