Pale Blue Dot by Carl Sagan
Author:Carl Sagan , Date: March 24, 2014 ,Views: 3604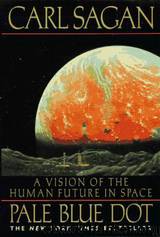 Author:Carl Sagan
Language: pt
Format: mobi, epub
Tags: Popular astronomy & space, Technology & Engineering, Outer space - Exploration, Reference, Popular astronomy, SCIENCE, Cosmology, Exploration, Astronautics, Popular science, Astrophysics & Space Science, Outer space, Mathematics, Astronomy, Popular works, Astronomy - General, Aeronautics & Astronautics
ISBN: 9780345376596
Publisher: Random House, Inc.
Published: 1997-09-08T05:00:00+00:00



PLANETARY SCIENCE fosters a broad interdisciplinary point of view that proves enormously helpful in discovering and attempting to defuse these looming environmental catastrophes. When you cut your teeth on other worlds, you gain a perspective about the fragility of planetary environments and about what other, quite different, environments are possible. There may well be potential global catastrophes still to be uncovered. If there are, I bet planetary scientists will play a central role in understanding them.
Of all the fields of mathematics, technology, and science, the one with the greatest international cooperation (as determined by how often the co-authors of research papers hail from two or more countries) is the field called "Earth and space sciences." Studying this world and others, by its very nature, tends to be non-local, non-nationalist, non-chauvinist. Very rarely do people go into these fields because they are internationalists. Almost always, they enter for other reasons, and then discover that splendid work, work that complements their own, is being done by researchers in other nations; or that to solve a problem, you need data or a perspective (access to the southern sky, for example) that is unavailable in your country. And once you experience such cooperation—humans from different parts of the planet working in a mutually intelligible scientific language as partners on matters of common concern—it's hard not to imagine it happening on other, nonscientific matters. I myself consider this aspect of Earth and space sciences as a healing and unifying force in world politics; but, beneficial or not, it is inescapable.
When I look at the evidence, it seems to me that planetary exploration is of the most practical and urgent utility for us here on Earth. Even if we were not roused by the prospect of exploring other worlds, even if we didn't have a nanogram of adventuresome spirit in us, even if we were only concerned for ourselves and in the narrowest sense, planetary exploration would still constitute a superb investment.
Download


Copyright Disclaimer:
This site does not store any files on its server. We only index and link to content provided by other sites. Please contact the content providers to delete copyright contents if any and email us, we'll remove relevant links or contents immediately.