Room 212 by Kate Stewart
Author:Kate Stewart [Stewart, Kate] , Date: April 25, 2014 ,Views: 3815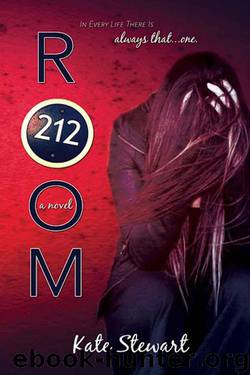 Author:Kate Stewart [Stewart, Kate]
Language: eng
Format: epub, mobi
Published: 2014-03-27T00:00:00+00:00



*****
"Seth?"
"What, baby?"
"If I loved another man, would it bother you?" I absently ran my fingers through his now full head of curls. He had grown them out for me in the past months and they were unbelievably beautiful on him. I was sitting with him in his recliner, our legs up, and I was bored out my mind due to the fact he was watching football.
"But you don't."
"I could."
"You won't. Really, shut up, Laura. The game is almost over and I'm losing a hundred bucks!"
"Shut up? We are at the shut up stage?"
"DAMN IT TO HELL!"
I jumped at his reaction to the game. I had never seen him this pissed about sports and I started laughing immediately.
"You think it's funny?"
"Yeah, never bet on the Cowboys. I mean, no offense."
"Oh, you are asking for an ass whooping."
"The shut up and ass whooping stage, hmm? Well, I'm not feeling the love tonight."
"Pay up, bitch," I heard his front door slam as a group of guys entered his living room and paused in mid-stride to eye me. There were three of them, two I recognized as Paul and David and the other from the park months ago.
"Hi," I said nervously looking wide eyed at Seth who never told me he had company coming. I darted my eyes down to the boxer shorts I had taken up residence in.
"Guys, turn your head for a minute." He shooed me off his lap and I quickly retreated down the hall to put some clothes on. It was a hot October—yes October, this is Texas—afternoon and the less I had on the better. I threw on a sundress and quickly made my way back to the living room. I heard the guys ask about me and paused to get Seth's response.
"She's Laura. What?"
"What is she to you?"
"Mine," his voice was cold and distant and I felt a tension in the air before I managed to get back into the room.
"So I'm going to go. I'll see you later?"
"No stay, Laura. You know Paul and David and this is Allen." Dear God, did he have any ugly friends? They all looked like models and smelled like heaven. All of them in jeans and either band tees or plain tees and the look they were giving me made my insides quiver. If I had straight friends they would have owed me one.
"Hey," I mustered up as casually as I could. I resumed my seat back onto Seth due to the fact that the guys took up the couch. They brought beer and I quickly drank one down to ease my nerves.
Our night began with casual talk as another football game started and gradually, as the drinks went down, our voices grew louder as we became more opinionated. I walked over and sandwiched myself between the guys and was in the middle of talking with the very shy David about his current girlfriend when Paul made a motion behind me.
"What was that?"
"Nothing," Paul's smile told me it was far from nothing.
Download


Copyright Disclaimer:
This site does not store any files on its server. We only index and link to content provided by other sites. Please contact the content providers to delete copyright contents if any and email us, we'll remove relevant links or contents immediately.