Darker Than the Deepest Sea by Trevor Dann
Author:Trevor Dann [TREVOR DANN] , Date: April 19, 2018 ,Views: 2061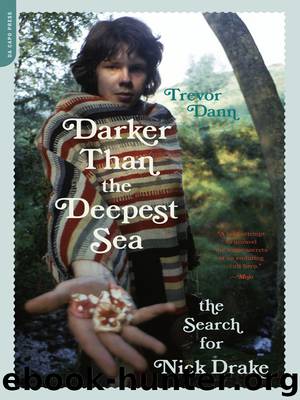 Author:Trevor Dann [TREVOR DANN]
Language: eng
Format: epub, mobi
Publisher: Da Capo Press
Published: 2011-12-29T05:00:00+00:00



ONE CHINK of light amid Nick's increasing separation and desolation was Joe Boyd's decision to record a sampler album to promote the work of the songwriters he had signed to Warlock Publishing. He hoped that by setting the songs of John Martyn, Beverley Martyn, Mike Heron of The Incredible String Band, Ed Carter from the Beach Boys band, and Nick Drake, in a pop context, he could persuade some famous artists to cover their songs on big-selling albums. Perhaps Nick might be able to make real money. The session for the Warlock sampler, at DJM Studios on New Oxford Street in London, featured Traffic's Jim Capaldi on drums, Fotheringay's Pat Donaldson85 on bass, Fairport Convention's Simon Nicol on guitar, Linda Peters (soon to marry Richard Thompson) and a young pianist from Pinner called Reg Dwight who, like Nick, had recently made his first solo album, under the name Elton John. The arrangements were by Del Newman, who went on to define the hugely popular Cat Stevens sound on albums like Tea For The Tillerman.86
Elton's versions of Way To Blue, Day Is Done, Time Has Told Me and Saturday Sun sound like they've come straight off the Elton John album or Tumbleweed Connection. In fact when he heard them for the first time in 35 years, he told me, 'I just played them to Davey, my guitarist, and he said, "I can't remember you writing these!" They really do sound like I might have written them.' Before the session Elton was already familiar with Five Leaves Left through his friend Muff Winwood. 'I loved that album so much,' he says, 'the melodies, the non-conformity of the songs (they're not just verse/chorus/verse), their bleakness, their beauty, very personal, very moving … I found solace in them. There was no one like that in the UK. He was just as good as Jeff Buckley and Rufus Wainwright.' Elton made the songs his own but, as guitar-based compositions, were they difficult to play on the piano? 'No, they suited me; they sound like they were written on the piano.'
Legend has it that when Elton sold his vinyl collection to raise money for his AIDS Foundation he kept a copy of the Warlock sampler. 'Sadly not true,' he says, 'I really regret it now. It's been great to hear them again; it wasn't a job, it was a labour of love.' There are reputed to be just seven vinyl white labels in existence, although there are many bootlegs in circulation. The last genuine copy sold for $3,000 on eBay in 2004.
Download


Copyright Disclaimer:
This site does not store any files on its server. We only index and link to content provided by other sites. Please contact the content providers to delete copyright contents if any and email us, we'll remove relevant links or contents immediately.