Petty: The Biography by Warren Zanes
Author:Warren Zanes , Date: October 3, 2017 ,Views: 2056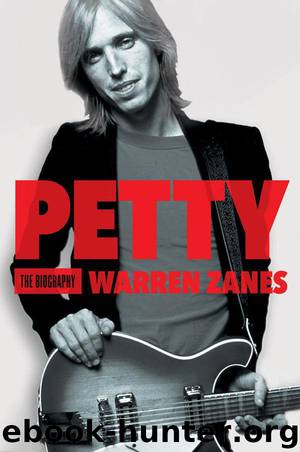 Author:Warren Zanes
Language: eng
Format: mobi, epub, azw3, azw
ISBN: 9780805099690
Publisher: Henry Holt and Co.
Published: 2015-11-10T05:00:00+00:00



15
LIFE BETWEEN THE BRANCHES BELOW
Much has been written about the teenager of today—but in every article we've seen, one important fact has been overlooked or ignored: namely, that the teenager of today is the parent of tomorrow!
MAD MAGAZINE, APRIL 1961
Just as Stevie Nicks insists that she saw something real, some deep sense of connection in Tom and Jane Petty's marriage, Adria Petty, though a child at the time, is sure she saw it, too. "I feel like they had a really special partnership," Adria says. "And a real love for the band. Maybe because their own families were so estranged from them, they created this support system, this mom-and-dad atmosphere. But I felt strangely sympathetic towards them when they had their difficulties or when they had failures as parents or in trying to navigate career, relationship, and all of that. I saw them as good people doing their best. And, really, I think my mother was an inspiration to him. She became something else. But she didn't start there. She suffered from her own emotional problems. And maybe when the coke came around, it became a catalyst for a one-way ticket into the center of those problems." Rock and roll provided a shaky foundation on which to build a family life. Drugs and alcohol made things more complicated still. But the darkness that lay ahead for Jane Petty didn't come from the outside. The worst of it was within. At a certain point, it couldn't all be explained with recourse to a story about her husband and the good fortune that had befallen them.
Annakim Petty was born in January 1982. She missed out on the years that Adria would later consider her parents' best, when the couple seemed aligned in their view of the strange world they'd entered, when their ambitions for Petty's career neatly overlapped their ambitions for the family. The Pettys were young, young enough to believe that it could all get better if his career achieved what they hoped it would. They'd come from twisted homes, and rock and roll seemed capable of delivering them into something more. For a long time, they were the faithful, holding on to that idea. But Annakim was born into the troubled side of that dream. Just prior to her birth, Petty arrived home from a Hard Promises night session to find his wife passed out cold in the hallway of the family's home, with Adria sleeping down the hall. Initially unable to revive her, Petty managed to get Jane up and into the bedroom. But she wasn't making any kind of sense. In a state, he called Alice Lenahan, who had been over earlier in the evening, to see if she knew anything. Alice just said that Jane had been drinking. But this wasn't looking like the result of a few cocktails. It wasn't the first scene of that kind and wouldn't be the last. Tom Petty wasn't even close to questioning his marriage. He was his mother's son, ready to do what he needed to keep his family together.
Download


Copyright Disclaimer:
This site does not store any files on its server. We only index and link to content provided by other sites. Please contact the content providers to delete copyright contents if any and email us, we'll remove relevant links or contents immediately.