Strange Fascination: David Bowie: The Definitive Story by David Buckley
Author:David Buckley [Buckley, David] , Date: August 16, 2017 ,Views: 2144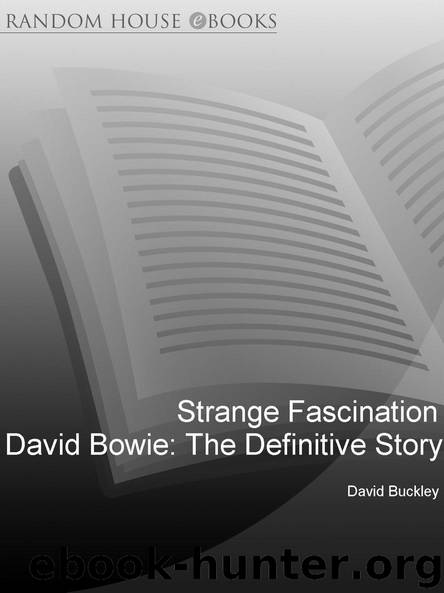 Author:David Buckley [Buckley, David]
Language: eng
Format: epub, mobi
ISBN: 9781448132478
Publisher: Ebury Publishing
Published: 2012-04-23T23:00:00+00:00



Part III
1982–2005
10. DAVID BOWIE: SUPERSTAR, 1982–1987
'Who on earth do you think you are?
A superstar? Well, all right you are!'
(JOHN LENNON, 'INSTANT KARMA', 1970)
It was hardly surprising Bowie had so little to offer in the 80s – he'd already lived through them.
WRITER BEN THOMPSON, THE INDEPENDENT, 1996
IN THE 1980S, simply being a pop star was no longer enough. Superstars now were expected to colonise film and video, to exploit their back catalogues and to be packaged as stars across a whole variety of different media. For the very first time perhaps, it was now also possible for superstars to become obscenely rich in the process. The era of the stadium tour was upon us. Pop music no longer spoke only to young people; the real catches were the twenty, thirty or even forty-somethings – those with the money. Rather than setting himself up as a new kind of rock superstar as in the 70s, Bowie became the superstar figure he had set out to replace. He accepted and became part of corporate rock.
Bowie was ideal for this new multimedia, multi-cash-in era. The 1980s had finally caught up with what Bowie had been doing since around 1968 – mixing media. Instead of carrying it out with panache and artistry, though, many of the 1980s superstars proceeded with deadening predictability. They were playing an old tune, and it was a song Bowie had been whistling loud and clear for a decade. With horrible irony Bowie allowed himself to be packaged blandly as this new star by big corporate rock. Instead of doing the packaging himself, he became more acted upon, more produced, more cramped by notions of industry product. He was that video star, that film star, that greatest hits machine, that man in the Pepsi ad or the Levi jeans. With the chance of becoming a multimillionaire many times over in the offing, Bowie decided it was time that his commercial standing matched his critical kudos. Bowie became branded.
In terms of the sales pitch, Bowie became one of the first stars to be sold like a brand name. His videos became slicker and less confrontational, his look became more 'parent-friendly', his choice of movies to act in became increasingly more populist, and his music instantly accessible. In 1986, with the Absolute Beginners film, there was a title song sung by Bowie, a pop video which intercut movie images with video footage, a range of official merchandise (including the ubiquitous T-shirt), press exposure, a documentary about the making of the film, the media hype surrounding the premiere of the film and finally, if anyone was still interested, the film itself. Like Prince, Michael Jackson and Madonna later in the decade, Bowie was a trans-generic brand name who could be used in a variety of media and sold to the public because he happened to be Bowie.
Bowie was a guarantor of a certain type of stardom. By the mid-80s he was the epitome of an almost Hollywood cool and mildly left-field artiness. Adrian Belew called him a 'rock'n'roll Cary Grant'.
Download


Copyright Disclaimer:
This site does not store any files on its server. We only index and link to content provided by other sites. Please contact the content providers to delete copyright contents if any and email us, we'll remove relevant links or contents immediately.