Tokyo Vice: An American Reporter on the Police Beat in Japan by Jake Adelstein
Author:Jake Adelstein , Date: March 25, 2014 ,Views: 3175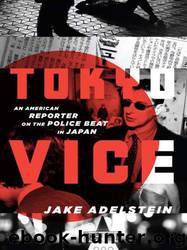 Author:Jake Adelstein
Language: eng
Format: mobi, epub
Tags: Language Arts & Disciplines, Publishers, Murder, Journalists, True Crime, Travel, Journalism, Editors, Asia, Crime, Biography & Autobiography, Crime and the press, Serial Killers, Reporters and reporting, Japan
ISBN: 9780307378941
Publisher: Random House, Inc.
Published: 2009-08-15T07:00:00+00:00



On July 12, the TMPD officially announced that it was conducting an investigation into the disappearance of Lucie Blackman. The Japanese newspaper coverage was subdued, but within days it became a major story in England.
I was spending every night in Roppongi scouring the streets for anyone who knew Lucie. I came across as so horribly geeky and uncomfortable that no one would talk to me. I had spent so much time immersed in an all-Japanese environment that I was having trouble speaking English. I stuttered. I probably sounded like a Japanese person trying to speak English. I must have given off a cop vibe.
And then around July 20, 2000, a very strange letter was delivered to the Azabu police, supposedly from Lucie Blackman herself.
The letter was postmarked from Chiba Prefecture, where Lucie was supposedly undergoing spiritual training. It told the police and her family to give up searching for her. The Azabu cops thought it was either a cheap prank or an attempt by the assailant to divert the investigation. One of the cops on the squad, whom I knew from the Fourth District, showed me the letter and asked me for my opinion. The cop had a strange name for a Japanese guy, so weird that he had to write the reading of it on his meishi so that people could make sense of it. I also think he had a thyroid condition, because his eyes literally bulged out of his head. His fellow cops, noticing this as cops are prone to do, nicknamed him Googly.
It was clear to me that the letter had been written by a Japanese person posing as a native speaker. The misuse of "a" and "the" and the stiffness of the prose, combined with a penchant for double negatives, clearly indicated that it had been written by a Japanese national. It was not a bad attempt but not a convincing one either. If I'd gotten anything out of teaching English conversation in Japan, it was a working knowledge of the quirks of Japanese English, aka Japlish. I explained as much to Googly, and he seemed convinced.
The next day Tim Blackman set up a special hotline to collect information regarding Lucie.
The first week of August came and went. Lucie had come to Japan on a ninety-day tourist visa. If she was still in Japan, she was now an illegal alien.
Tim Blackman came back to Japan, and it was a media circus. At a press conference at the British Embassy, he announced a reward of 1.5 million yen (about $15,000) for information leading to the rescue or discovery of Lucie. Meanwhile, the police were slowly uncovering the true identity of the mysterious Akira Takagi but still had no information on the current whereabouts of Lucie.
Lucie's birthday came on September 1. She would have been twenty-two.
I still had nothing solid on Lucie either. The only thing that sounded promising was information about a man who went by the name of Yuji. Yuji had long hair tinged with gray.
Download


Copyright Disclaimer:
This site does not store any files on its server. We only index and link to content provided by other sites. Please contact the content providers to delete copyright contents if any and email us, we'll remove relevant links or contents immediately.