Tuesdays with Morrie by Mitch Albom
Author:Mitch Albom , Date: March 26, 2014 ,Views: 3463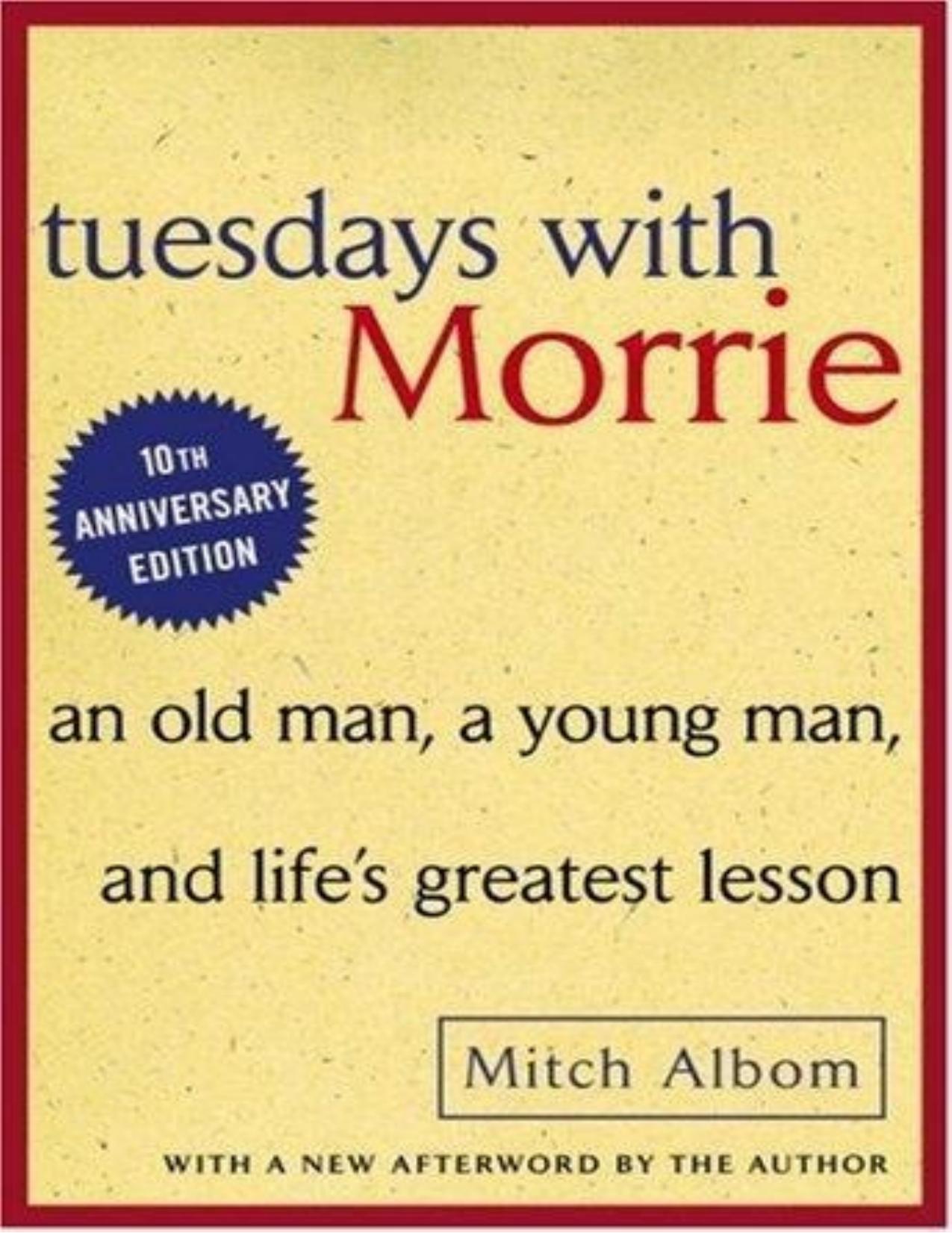 Author:Mitch Albom
Language: eng
Format: epub, mobi
Publisher: Knopf
Published: 2007-06-28T16:00:00+00:00



The small horrors of his illness were growing, and when I finally sat down with Morrie, he was coughing more than usual, a dry, dusty cough that shook his chest and made his head jerk forward. After one violent surge, he stopped, closed his eyes, and took a breath. I sat quietly because I thought he was recovering from his exertion.
"Is the tape on?" he said suddenly, his eyes still closed.
Yes, yes, I quickly said, pressing down the play and record buttons.
"What I'm doing now," he continued, his eyes still closed, "is detaching myself from the experience."
Detaching yourself?
"Yes. Detaching myself. And this is important—not just for someone like me, who is dying, but for someone like you, who is perfectly healthy. Learn to detach."
He opened his eyes. He exhaled. "You know what the Buddhists say? Don't cling to things, because everything is impermanent."
But wait, I said. Aren't you always talking about experiencing life? All the good emotions, all the bad ones?
"Yes."
Well, how can you do that if you're detached?
"Ah. You're thinking, Mitch. But detachment doesn't mean you don't let the experience penetrate you. On the contrary, you let it penetrate you fully. That's how you are able to leave it."
I'm lost.
"Take any emotion—love for a woman, or grief for a loved one, or what I'm going through, fear and pain from a deadly illness. If you hold back on the emotions—if you don't allow yourself to go all the way through them—you can never get to being detached, you're too busy being afraid. You're afraid of the pain, you're afraid of the grief. You're afraid of the vulnerability that loving entails.
"But by throwing yourself into these emotions, by allowing yourself to dive in, all the way, over your head even, you experience them fully and completely. You know what pain is. You know what love is. You know what grief is. And only then can you say, 'All right. I have experienced that emotion. I recognize that emotion. Now I need to detach from that emotion for a moment.'"
Morrie stopped and looked me over, perhaps to make sure I was getting this right.
"I know you think this is just about dying," he said, "but it's like I keep telling you. When you learn how to die, you learn how to live."
Morrie talked about his most fearful moments, when he felt his chest locked in heaving surges or when he wasn't sure where his next breath would come from. These were horrifying times, he said, and his first emotions were horror, fear, anxiety. But once he recognized the feel of those emotions, their texture, their moisture, the shiver down the back, the quick flash of heat that crosses your brain—then he was able to say, "Okay. This is fear. Step away from it. Step away."
I thought about how often this was needed in everyday life. How we feel lonely, sometimes to the point of tears, but we don't let those tears come because we are not supposed to cry. Or how
Download


Copyright Disclaimer:
This site does not store any files on its server. We only index and link to content provided by other sites. Please contact the content providers to delete copyright contents if any and email us, we'll remove relevant links or contents immediately.