Do No Harm Stories of Life, Death and Brain Surgery by Henry Marsh
Author:Henry Marsh [Marsh, Henry] , Date: December 22, 2014 ,Views: 6086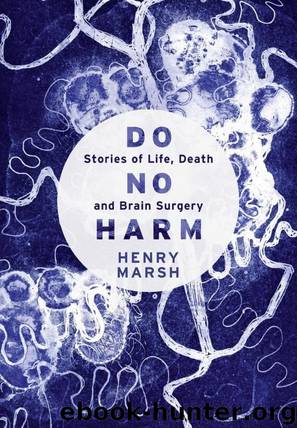 Author:Henry Marsh [Marsh, Henry]
Language: eng
Format: epub, mobi
ISBN: 9780297869887
Publisher: Orion
Published: 2014-03-12T22:00:00+00:00



The next day was even worse. None of us felt able to make our usual sardonic jokes at the morning meeting. The first case was a man who had died as a result of an entirely avoidable delay in his being transferred to our unit; another was a young woman who had become brain dead after a haemorrhage. We looked glumly at her brain scan.
'That's a dead brain,' one of my colleagues explained to the juniors. 'Brain looks like ground glass.'
The last case was an eight-year-old who had tried to hang himself and had suffered hypoxic brain damage.
'Can we have some rather less depressing cases please?' someone asked, but there were none and the meeting came to an end.
As I was leaving, one of the neurologists came down the corridor looking for me. He was sporting a three-piece suit – a rarity for hospital consultants in the modern age – but instead of looking his usual jovial and positive self he appeared a little hesitant.
'Can I ask you to see a patient?' he asked.
'Of course,' I replied enthusiastically, always keen to find more patients for surgery and hoping for a benign tumour but a little worried by his expression.
'The scans are on PACS,' he said and we went back into the viewing room where his registrar summoned up a brain scan on PACS, the digital X-ray system, on one of the computers.
'She's only thirty-two, I'm afraid,' the neurologist explained.
'Oh dear,' I said. The scan showed a large and unmistakably malignant tumour at the front of her brain.
'It seems to be a bad week.'
We walked to the day ward where the patient was lying behind curtains on a bed. She had had the scan twenty minutes earlier and the neurologist had only just told her – in broad terms – what it showed. A young mother, with two children, she had been suffering from headaches for a few weeks. Her husband was sitting by the bedside. It was obvious that they had both been crying.
I sat down on her bed and did my best to explain what treatment she would need. I tried to give her some hope but could not pretend that she was going to be cured. With these terrible conversations, especially when the bad news is being broken so suddenly, all doctors know that patients will only take in a small part of what they are told. I sent her home on steroids – which would get the headaches quickly better – and arranged to operate next Monday, promising her and her distraught husband that I would explain everything again when she was admitted the evening before the operation. It does not feel very good to tell somebody, in effect, that they have an incurable brain tumour and then tell them to go home, but there was nothing else to be done.
Next morning I showed her brain scan to the juniors at the morning meeting. It appeared on the wall in front of us in black and white.
I
Download


Copyright Disclaimer:
This site does not store any files on its server. We only index and link to content provided by other sites. Please contact the content providers to delete copyright contents if any and email us, we'll remove relevant links or contents immediately.