The Money Culture by Michael Lewis
Author:Michael Lewis , Date: April 15, 2016 ,Views: 2895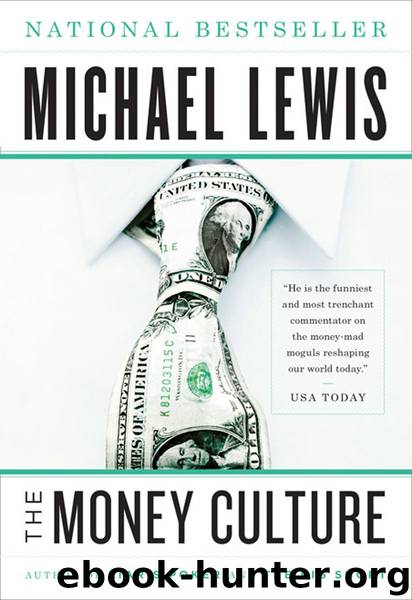 Author:Michael Lewis
Language: eng
Format: epub
Publisher: W. W. Norton & Company
Published: 1991-04-14T16:00:00+00:00



29 January: On a Dock in Barbados
The photo session with Rukeyser was scheduled for 9 P.M., and it was nearing 8 P.M. when I sat down on the dock, inoculated against every disease but despair. The dock was deserted. There were half a dozen cruise ships in port, none of them mine. I knew this because I'd walked about five miles with bags to read the names on their sides. It was raining of course.
After about ten minutes of looking lost and wet and pitiful I was approached from the shadows by a Barbadian entrepreneur who offered to rescue me—for a fee. I paid, and he immediately pointed past the sleek white cruise ships that dominated our view to a dark scaphoid form on the horizon. The horizon was actually the end of the dock. The smallish speck was the Stella Solaris. I struggled for a moment with what the psychiatrists call denial.
"If that's my ship, how come there are no people running out to get on it?" I asked.
"Everybody on board," he said. "The ship gets them on so the people don't spend all of their money in Barbados. So they spend it on the boat. Besides, most of them too old to run."
It was 8:30 when I arrived in the Solaris lounge—the center of our lives for the next 10 days—and there was still no sign of Louis Rukeyser or Marshall Loeb. Seated in the lounge were my distinguished fellow investors, the oldest collection of doctors, lawyers, and accountants ever assembled. It was quiet as a funeral; a less charitable observer might say it was well on its way to being a funeral. These were not the sort of old people who inspire cries of "My! They get around for their age!" or "I hope I do as well as that when I'm 75!" These were the sort of old people who make one ask, "Are they breathing?" Their hands were trembling and their eyes were vacant—quavering memento mori. I must have been moved by the determination of these aged conquistadors because I forgot all about the free photograph with Louis Rukeyser, who in any case didn't seem to be around, and sat down among them to watch. As I sat down a Corsican man with a Saddam Hussein moustache appeared on the stage and began to mangle "New York, New York" ("eef you can make eet there you make eet anywhere").
Watching retired people is not very entertaining, in my opinion. Their minds seem to be entirely focussed on the next step their bodies will take. Their humor and wit suffer as a result. When one man in a large group looked out the lounge window and down at the water, another said, "You better watch out for the sharks," and everyone chuckled like it was the best thing that had been said all night. That may explain why they are willing to endure the most appalling entertainment without movement or complaint. But people over 65, for both the heir and the investor, are extremely important.
Download


Copyright Disclaimer:
This site does not store any files on its server. We only index and link to content provided by other sites. Please contact the content providers to delete copyright contents if any and email us, we'll remove relevant links or contents immediately.