Ants Among Elephants by Sujatha Gidla
Author:Sujatha Gidla , Date: August 25, 2017 ,Views: 2691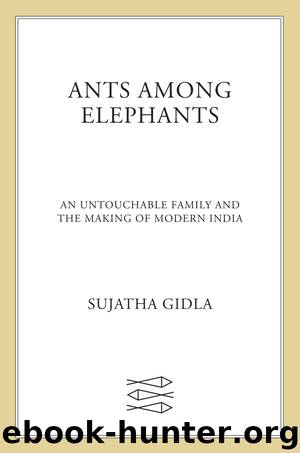 Author:Sujatha Gidla
Language: eng
Format: epub
Publisher: Farrar, Straus and Giroux



FIVE
EXAM RESULTS CAME OUT. SATYAM, Manjula, and their father passed (he had enrolled in a B.A. program by correspondence). Carey failed. It was English again.
Many of Manjula's classmates passed, but only three of them were accepted by Andhra University: Manjula, Satyam, and their friend Ganga Raju.
On the day they were to leave for Vizag, Manjula made a special visit to her old history lecturer Mr. Rama Prabhu's home. He wouldn't let her into his house. Standing outside the gate, she thanked him: "Sir, without you pushing me hard the way you did, I never would have passed, let alone received a first class."
She meant it. She had the demented notion that this man had humiliated and terrorized her with no other purpose than to make her study hard. As though Rama Prabhu were a stricter version of Sambasiva Rao, with the same ideals of uplifting untouchables but with different methods. Manjula wasn't aware of her tendency to prostrate herself before caste Hindus, especially brahmins. Throughout her life—in this and other ways—she coupled rebellion with obeisance.
On a sweaty summer evening, friends and family went to the railway station to see off Satyam, Manjula, and Ganga Raju. Manjula, beaming with excitement, sat at the window to wave goodbye. As the train pulled out, Carey ran alongside it and snarled at her, "Behave yourself." She shrank with hurt and shame.
The next morning they arrived at Waltair Station in Vizag. Vizag is a beautiful port city on the Bay of Bengal with pristine white beaches on one side and green hills on the other. Its endless streets slope up and down, lined with palm trees and street vendors. At nearly every corner you see a Hindu temple or a Christian church.
Vizag was also where Satyam and Manjula's mother was buried. Since fleeing the city during the Japanese bombing, they had never returned, except when Satyam, in the final year for his B.A., had visited Andhra University to represent his college in a statewide debating competition. The topic his team was given was "Capitalism or Communism?" Satyam's teammate, intent on accruing extracurricular credits, wanted to defend Communism because he thought it was easier. With a wave of his hand, Satyam let him have his choice. Arguing for capitalism with great passion, lyricism, and good sense, Satyam won his college the gold medal.
Returning to the AU campus as a student at the Arts College, Satyam settled into a hostel. In the mornings he liked to stand at his balcony looking out at the campus below. He soon noticed a pretty paki girl who came to clean out the latrines in the faculty quarters. She reminded him of his beautiful Maniamma, who was pregnant when he left home.
In his first week at AU, Satyam was called to a meeting for SFI members and a few Communist workers from the dockyards. They gathered late at night in an older student's room. A senior representative of the party had come to speak.
After Stalin died and Khrushchev took over as the Soviet leader, major changes occurred in international Communist policy.
Download


Copyright Disclaimer:
This site does not store any files on its server. We only index and link to content provided by other sites. Please contact the content providers to delete copyright contents if any and email us, we'll remove relevant links or contents immediately.