Aleister Crowley: The Biography by Tobias Churton
Author:Tobias Churton , Date: December 12, 2017 ,Views: 2735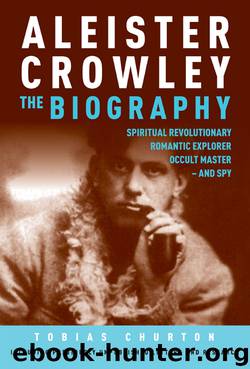 Author:Tobias Churton
Language: eng
Format: epub
Tags: Aleister Crowley
ISBN: 9781780280127
Publisher: Watkins Media
Published: 2011-08-16T04:00:00+00:00



On the night of 26 February 1918 Therion and Roddie Minor worked up some 'Magical Energy' resulting in Crowley's being able to sit up till 5.30am 'writing in the Book of my Wisdom that I am making for my Son'. The book was Liber Aleph, the Book of Wisdom or Folly, addressed to Frater Achad (Unity).15 In March, Achad sold his possessions in Canada and moved to Crowley's and Roddie's rooms at West 9th Street, joining Crowley for a while on his summer retirement on Esopus Island in the Hudson, near Staatsburg, 70 miles from Manhattan. Journalist William Seabrook helped with cash and supplies, and shared his wife, Kate, with the Beast. Seabrook worked for press mogul William Randolph Hearst, considered by the Bureau of Investigation (BI) remarkably pro-German in outlook. Crowley may have suspected Seabrook, or have been interested in his contacts.
While he worked on his verse-translation of the Tao Te Ching, local farmers brought the holy hermit eggs, vegetables and milk. Crowley entered 'sammasati' trances by which memories of supposed previous incarnations appeared: Ko Hsuen, Cagliostro, Eliphas Lévi, Pope Alexander VI, a Knight Templar, to name a few. Not all his precarnations were known to history; many led warped lives. He vaguely recalled having attended a council of Masters some time in the 'Dark Ages' who debated whether esoteric secrets should be imparted to mankind, and, if so, who might best achieve it. Crowley's earlier 'discarnation' voted 'yes', a generous act not unconnected with currrent problems!
Crowley returned from New York to his hermitage in late August with lots of red paint. Paddling a leaky canoe, he approached his island's low cliffs, bemusing passing riverboat sightseers by painting in huge red letters: DO WHAT THOU WILT SHALL BE THE WHOLE OF THE LAW. The epic lecture was free.
Refreshed, the artist took a small studio apartment at 1 University Place, Washington Square North. Neighbours included the Seabrooks, Eugene O'Neill, Theodore Dreiser, Sinclair Lewis, and friend to the end, Louis Umfraville Wilkinson. In November, Achad revealed 'Liber 31' to his magical father. Crowley reckoned Jones had found the Key to The Book of the Law.16
Leah Hirsig, meanwhile, visited Crowley with sister Marion. As Crowley chatted informally with Marion, he undressed Leah. Artists were expected to do things like that. She duly posed for a triptych called Dead Souls upon which a strange figure, inspired by Leah, was surrounded by grotesque faces. Crowley's comment: 'The dead souls have composed a living soul.' Members of the Village art scene admired Dead Souls, none more enthusiastically than painter Robert Winthrop Chanler. The Dead Souls have disappeared, though there is a famous photograph of Leah poised amusedly, contentedly before its central panel. Leah quit her Bronx teaching post for a part-time law course at New York University.
Download


Copyright Disclaimer:
This site does not store any files on its server. We only index and link to content provided by other sites. Please contact the content providers to delete copyright contents if any and email us, we'll remove relevant links or contents immediately.