Book of Life by Deborah Harkness
Author:Deborah Harkness [Harkness, Deborah] , Date: June 14, 2016 ,Views: 2060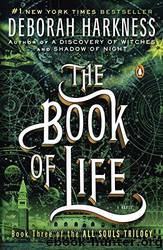 Author:Deborah Harkness [Harkness, Deborah]
Language: eng
Format: epub
ISBN: 9780143127529
Amazon: 0143127527
Publisher: Penguin Books
Published: 2015-05-26T00:00:00+00:00



22
Matthew headed north and west and out of the city with Diana beside him. He drove uncharacteristically fast, and in less than fifteen minutes they were on a quiet lane tucked into the shadow of the peaks known locally as the Sleeping Giant. Matthew pulled in to an otherwise dark driveway and shut off the car's ignition. A porch light came on, and an elderly man peered into the darkness.
"That you, Mr. Clairmont?" The man's voice was faint and thready but there was still a sharp intelligence in his eyes.
"It is, Mr. Phelps," Matthew said with a nod. He circled the car and helped Diana down. "My wife and I are going up to the cottage."
"Nice to meet you, ma'am," Mr. Phelps said, touching his forehead with his hand. "Mr.
Gallowglass called to warn me you might be stopping by to check on things. He said not to worry if I heard somebody out here."
"I'm sorry we woke you," Diana said.
"I'm an old man, Mrs. Clairmont. I don't get much shut-eye these days. I figure I'll sleep when I'm dead," Mr. Phelps said with a wheezing laugh. "You'll find everything you need up on the mountain."
"Thank you for watching over the place," Matthew said.
"It's a family tradition," Mr. Phelps replied. "You'll find Mr. Whitmore's Ranger by the shed, if you don't want to use my old Gator. I don't imagine your wife will want to walk all that way. The park gates are closed, but you know how to get in. Have a nice night."
Mr. Phelps went back inside, the screen hitting the doorframe with a snap of aluminum and mesh.
Matthew took Diana by the elbow and steered her toward what looked like a a cross between a golf cart with unusually rugged tires and a dune buggy. He let go of her only long enough to round the vehicle and climb in.
The gate into the park was so well hidden it was all but invisible, and the dirt trail that served as a road was unlit and unmarked, but Matthew found both with ease. He navigated a few sharp turns, climbing steadily as they traveled up the side of the mountain, passing through the edges of heavy forest until they reached an open field with a small wooden house tucked under the trees. The lights were on inside, making it as golden and inviting as a cottage in a fairy tale.
Matthew stopped Marcus's Ranger and engaged the brake. He took a deep breath to drink in the night scents of mountain pine and dew-touched grass. Below, the valley looked bleak. He wondered if it was his mood or the silvered moonlight that rendered it so unwelcoming.
"The ground is uneven. I don't want you to fall." Matthew held out his hand, giving Diana the choice whether to take it or not.
After a concerned look, she put her hand in his. Matthew scanned the horizon, unable to stop searching for new threats. Then his attention turned skyward.
"The moon is bright tonight," he mused.
Download


Copyright Disclaimer:
This site does not store any files on its server. We only index and link to content provided by other sites. Please contact the content providers to delete copyright contents if any and email us, we'll remove relevant links or contents immediately.