Always and Forever, Lara Jean by Jenny Han
Author:Jenny Han , Date: May 21, 2017 ,Views: 12936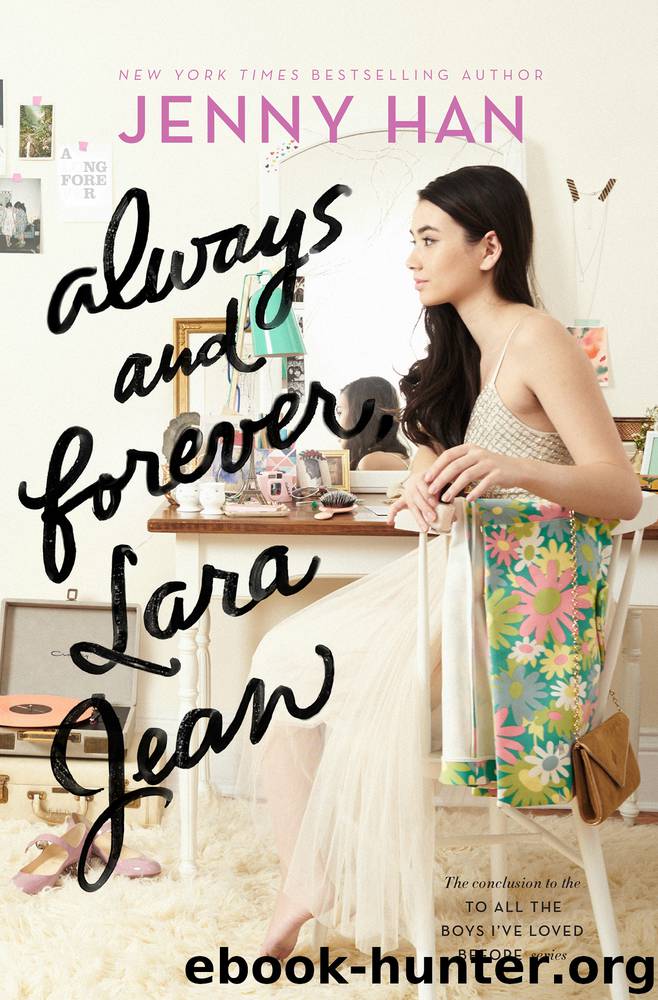 Author:Jenny Han
Language: eng
Format: epub, mobi
Publisher: Simon & Schuster Books for Young Readers



22
THE MORNING OF PROM, KITTY comes in my room as I'm painting my toes. "What do you think about this color with my dress?" I ask her.
"It looks like you dipped your toenails in Pepto-Bismol."
I peer down at my feet. It kind of does look like that. Maybe I should do a beige color instead.
The consensus is that the dress requires an updo. "To show off your collarbone," Trina says. I've never thought of my collarbone as something to be shown off; in fact I've never thought of my collarbone at all.
After lunch Kitty goes with me to the hair salon, to supervise. She tells the stylist, "Don't make it too done, do you know what I mean?"
The stylist gives me a nervous look in the mirror. "I think so? You want it to look natural?" She's talking to Kitty, not me, because it's obvious who is in charge. "Like a natural chignon?"
"But not too natural. Think Grace Kelly." Kitty pulls up a picture on her phone and shows it to her. "See, like this, but we want the bun to the side."
"Just please don't use too much hairspray," I say meekly, as the stylist coils my hair into a knot at the nape of my neck and shows Kitty.
"That's great," Kitty says to her. To me she says, "Lara Jean, she has to use hairspray if you want it to stay up."
Suddenly I'm having second thoughts about an updo. "Are we sure about the updo?"
"Yes," Kitty says. To the stylist she says, "We're doing the updo."
* * *
The updo is more "done" than I'm used to. My hair is in a side bun; the top is smooth like a ballerina. It's pretty, but when I look in the mirror, I don't recognize myself. It's an older, sophisticated version of me who's going to the opera, or the symphony.
After all the time the woman at the salon spent putting my hair up, I end up taking it down when I get home. Kitty yells at me as she brushes my hair out, but I bear it. Tonight I want to feel like me.
"How are we doing your grand entrance?" Kitty asks me as she sweeps the brush through my hair one last time.
"Grand entrance?" I repeat.
"When Peter gets here. How are you going to enter the room?"
Trina, who is lying on my bed eating a Popsicle, pipes up with, "When I went to prom, we did a thing where the dads walked the girls down the stairs and then somebody would announce you."
I look at them both like they are nuts. "Trina, I'm not getting married. I'm going to prom."
"We could turn off all the lights and put on music, and then you walk out and do a pose at the top of the stairs—"
"I don't want to do that," I interrupt.
Her forehead creases. "What part?"
"All of it."
"But you need a moment where everybody looks at you and only you," Kitty says.
"It's called a first look," Trina explains. "Don't worry, I'll get the whole thing on video.
Download


Copyright Disclaimer:
This site does not store any files on its server. We only index and link to content provided by other sites. Please contact the content providers to delete copyright contents if any and email us, we'll remove relevant links or contents immediately.