Wait for You by J. Lynn
Author:J. Lynn [Lynn, J.] , Date: March 13, 2018 ,Views: 2139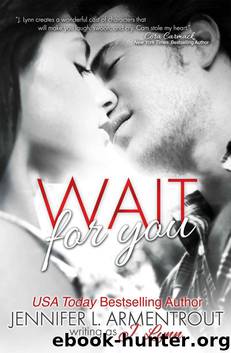 Author:J. Lynn [Lynn, J.]
Language: eng
Format: mobi, epub
Publisher: J. Lynn
Published: 2013-02-26T06:00:00+00:00



Chapter 18
Cam got those blue eyes from his father, his sense of humor… and ability to string together the most confusing rationale on this Earth, which was what probably made Richard Hamilton such a successful lawyer. Within a few short hours, he nearly had me agreeing to try deer jerky for the first time.
Almost.
If it weren't for Cam continuously whispering "Bambi" in my ear every couple of minutes, I would've caved. But I couldn't eat Bambi, no matter how succulent Mr. Hamilton made it sound.
We stayed in the spacious kitchen, at the scuffed oak table that was just the right size to seat four or five people, drinking the coffee Cam's mother had made. My sides were actually aching from laughing so hard at Cam and his father. The two of them were identical. Wavy, uncontrollable hair, bright blue eyes that sparkled with pure mischief and the rare talent for turning every word around.
"Look, Dad, seriously, you're embarrassing yourself here."
His father glanced at me, brows raised in a fashion that was so like Cam. "Do I look embarrassed, Avery?"
Pressing my lips together, I shook my head.
Cam shot me a look that said I wasn't helping. "You're sitting here trying to convince me, mom, Avery, and baby Jesus, that Big Foot must exist because apes exist?"
"Yes!" the older Hamilton shouted. "It's called evolution, son. Are they teaching you anything at college?"
Cam rolled his eyes. "No, Dad, they aren't teaching me about Big Foot at college."
"Actually," I said, clearing my throat. "There is the whole missing link theory when it comes to primates."
"I like this girl." Mr. Hamilton winked at me.
"You're not helping," Cam grumbled.
"All I'm saying is once you've been out in the woods and heard the things I've heard," his father continued. "You'd believe in Big Foot and the chupacabra."
"Chupacabra?" Cam's jaw hit the table. "Aw, come on, Dad."
Mrs. Hamilton shook her head fondly. "These are my boys. I'm so proud."
I grinned as I took a sip of the rich coffee. "They really are quite something else together."
"Something else?" She huffed as she pushed from the table, grabbing her husband's empty coffee cup. "That's the nice way of saying their bat shit crazy."
"Hey!" Mr. Hamilton's head whipped around, eyes dancing. "You listen here, woman."
"You can listen to my foot up your ass if you call me woman again." Mrs. Hamilton refilled the cup and reached for the sugar. "And you can take that to court."
Cam sighed and lowered his head.
I smothered my giggle with my hand.
His family was… wonderful. They were friendly and warm. Nothing like my own. I doubted my mom knew how to use the coffee maker or would lower herself to serving someone, even my dad.
Mrs. Hamilton put the cup down in front of her husband. "Aren't you two going to the drive-in tonight?"
"Yep," Cam said, standing. He picked up our bags. "We need to get going so we get a good spot."
"Make sure you grab some thick blankets," she said, sitting back down at the table. "It's been getting really cold at night.
Download


Copyright Disclaimer:
This site does not store any files on its server. We only index and link to content provided by other sites. Please contact the content providers to delete copyright contents if any and email us, we'll remove relevant links or contents immediately.