Tippi by Tippi Hedren
Author:Tippi Hedren , Date: May 17, 2017 ,Views: 1424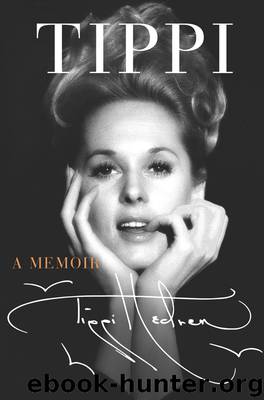 Author:Tippi Hedren
Language: eng
Format: epub
ISBN: 9780062469052
Publisher: HarperCollins
Published: 2016-10-03T16:00:00+00:00



Though I didn't realize it at the time, the timing was probably perfect for me to get a phone call from Dr. Larry Ward.
Dr. Ward had met Noel a year or two earlier and asked if I'd be interested in working with a relatively new organization he'd founded called Food for the Hungry. FH, as it came to be known, was an international, evangelically based relief organization inspired by Psalms 146:7: "He upholds the cause of the oppressed and gives food to the hungry." Since that very first introduction, I was instantly interested in helping, with fundraising and anything else I could do for the incredibly worthy cause.
My first trip with Food for the Hungry had been focused on providing food, medical supplies, and financial aid to the impoverished survivors of the horrible, bloody Indo-Pakistani War, and I had joined Dr. Ward to help bring relief to newly liberated Bangladesh. As would also be the case on trips to come, I expected the situation to be heartbreaking, but there was no way to prepare for the heartbreak of the issue we took on. Among the victims of that war were civilian women who'd been brutally raped by rebel soldiers. Their tragedy was compounded by the fact that in their culture, rape victims were ostracized by their families, friends, and communities, as if they were now somehow unclean and unworthy to be a part of acceptable society. It was an outrage, but it was what it was. There was no time to try to enlighten the culture or debate the social insanity of victimizing the victims. It was an honor to work hard side by side with Dr. Ward and the other volunteers, finding refuge for those women, as well as medical doctors and psychologists, to get them through this unspeakably tragic time in their lives. Anything we did to help, even as little as it sometimes felt, was gratifying work.
Which was why I was so grateful to receive Dr. Ward's second call. As he told me, Food for the Hungry was headed to Guatemala to help the survivors of a series of devastating earthquakes there and he wanted to know if I could come along. When he asked me if I was, by any chance, available to go on that mission with them, what else was there to say but yes. And again, thank you, God!
There were plenty of skilled, wonderful people in Soledad Canyon to take care of the animals while I was gone. I was suddenly feeling very foolish for being so upset about cleaning up after a few rambunctious lion cubs when those poor earthquake victims were going through real devastation. I didn't just want to help them, I had to.
Next thing I knew I was in a DC-3 transport plane with four or five other volunteers, flying over Mexico en route to Guatemala. There were no seats. We sat on the floor, surrounding a huge pile of medical supplies strapped onto the floor of the plane's body.
Download


Copyright Disclaimer:
This site does not store any files on its server. We only index and link to content provided by other sites. Please contact the content providers to delete copyright contents if any and email us, we'll remove relevant links or contents immediately.