See You in the Cosmos by Jack Cheng
Author:Jack Cheng , Date: March 27, 2017 ,Views: 1657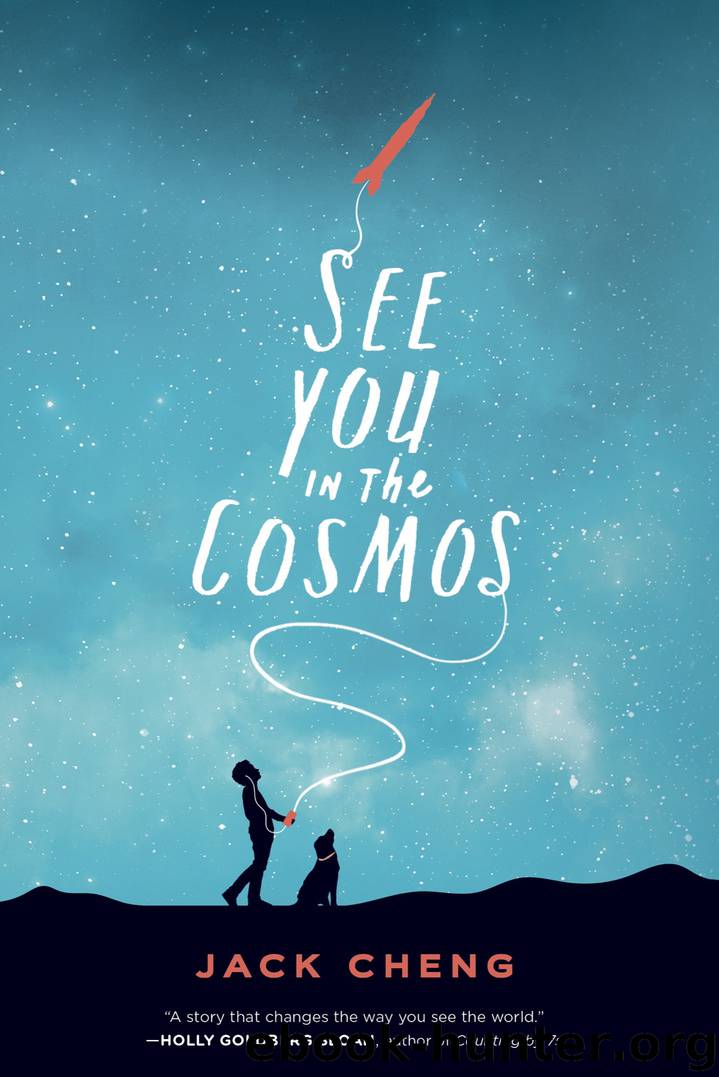 Author:Jack Cheng
Language: eng
Format: epub
Publisher: Penguin Young Readers Group
Published: 2017-01-18T17:42:02+00:00



NEW RECORDING 28
12M 34S
Guess where we are, guys . . .
We're in LA!
Guess where in LA we are . . .
We're at Johnny Rockets!
It's just me and Terra here though. Steve went to have dinner with his girlfriend, and Zed's back at the apartment, and I finally met their other roommate Nathan! Nathan's really tall and skinny. He was sitting under some palm trees in their courtyard and drinking an iced coffee when we got there, and when him and Zed stood next to each other they looked like C-3PO and R2-D2, except Nathan has blond hair down to his chin and not as good posture and he wears glasses and his skin isn't gold. I guess he's not really like C-3PO.
The guys's apartment is way nicer than Terra's apartment, by the way. It's even nicer than Paul Chung's! It's on the third floor and the outside hallway looks over the courtyard, and their living room has big windows at the end that take up the whole wall, it's a sightseer living room. When we walked in I saw a bunch of empty boxes in the corner and padded envelopes and big rolls of bubble tape, which I popped. There were also twenty sealed boxes of Battlemorphs booster packs—I've never seen so many Battlemorph cards in my whole life!
I said, Hey Steve, you must love Battlemorphs even more than Benji does, and Steve said it's another one of his side adventures. He showed me how he opens the boxes and takes out all the packs, and then he weighs them one by one on a scale like the one Benji's mom has in their kitchen. Steve said he can tell without opening them which packs have holograms because the packs with holograms weigh a little more than the ones without holograms. He said he opens the hologram packs and sells the hologram cards by themselves, especially the ultra-rares, and then he keeps the not-hologram packs sealed and sells those too because people don't want to buy packs that are already open. See, guys? I told you Steve was entrepreneurial.
I wanted to e-mail Benji and tell him about Steve's side adventure but I wanted to go surprise Ronnie too, so I told Terra let's go to Ronnie's place ASAP. Steve said he's leaving also, he's having dinner with his girlfriend and he'll probably just sleep over at her place tonight, so if Terra and me want we can stay in his room. Terra said thanks for the offer but we should go talk to Ronnie first, then we can figure it out.
I called Ronnie and it went to his voicemail, so I left him a message and I said, Hey Ronnie, I hope you're not too busy because I have a couple of surprises for you! And then Terra said, He's not home? and I told her sometimes he just puts his phone on silent, you never know with Ronnie. I said we should go there anyway and ring his doorbell, and Terra said OK.
Download


Copyright Disclaimer:
This site does not store any files on its server. We only index and link to content provided by other sites. Please contact the content providers to delete copyright contents if any and email us, we'll remove relevant links or contents immediately.