The Queen of Attolia by Megan Whalen Turner
Author:Megan Whalen Turner [Turner, Megan Whalen] , Date: April 13, 2014 ,Views: 1584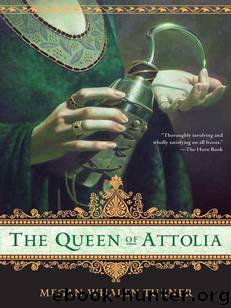 Author:Megan Whalen Turner [Turner, Megan Whalen]
Language: eng
Format: epub, mobi
ISBN: 9780061968464
Publisher: HarperCollins
Published: 2000-03-28T22:00:00+00:00



In the morning he asked for a private audience with the queen and scheduled it with her chamberlain, a highly unusual chain of events. In general, if he wanted to talk to her, he just did, and if he wanted to speak privately, he appeared at her elbow when no one else was near, whenever and wherever that might be. After weeks of silence, barricaded in his library after the magus's first visit, he'd woken her in the middle of the night in her bedchamber, while her attendants slept on undisturbed nearby, and asked to borrow several men and a chariot in order to destroy Sounis's navy.
Now Eddis met with him in one of the small interview rooms in a newer part of the palace. It was an official receiving room and had a throne in it raised three steps off the floor. She always felt as if she were perching like a bird rather than sitting like a monarch on this particular throne. She looked down at her Thief.
"You're requesting my permission to run away and hide?" she asked.
Eugenides winced, but he then nodded. He stood before her dressed in his most formal tunic with his hair newly clipped and his chin carefully shaven. "Yes," he admitted. "I am requesting your permission to run away and hide."
"Eugenides, we can't afford to have you disappear in a fit of despair just now."
"Do I look sunk in despair?" he asked, holding his arms out from his sides.
"I assume you're hiding it to maintain pretenses."
"It's worse than despair I am hiding," he said, sounding suddenly very bleak.
"Is there something worse?" she asked.
"Oh, yes." He shifted his weight and looked around the empty room. He turned away from her and appeared to take a great interest in the interlocking gold squares painted around the walls near the ceiling. "I'm terrified," he admitted.
Eddis thought he was joking and laughed. He glanced at her and away again, and she stopped.
He crossed his arms over his chest and, still facing away from her, spoke to the wall. "Those men in the hall last night…"
"They were joking."
"I know they were joking. I'm not laughing," he snapped, and caught himself. His head dropped forward, and he addressed himself again to the wall. "The only thing I want to do right now is bolt the door to my room and hide under the covers. I'd do it, too, but then I might fall asleep, and I can't risk that. So much," he said bitterly, "for the hero of Eddis."
He brushed his hair off his face, then tucked his hand back under his arm. "I remember when they brought me up the mountain. Parts of the trip. I remember thinking that nothing else, nothing worse, would happen, because I was home. Then I heard Galen telling you that if it was glower in my eyes, I'd be blind." He was shaking his head. Eddis had to make an effort to stop shaking hers. "And I stand around listening to people laugh at the idea that I might end up deaf and dumb as well.
Download


Copyright Disclaimer:
This site does not store any files on its server. We only index and link to content provided by other sites. Please contact the content providers to delete copyright contents if any and email us, we'll remove relevant links or contents immediately.