An American Plague by Jim Murphy
Author:Jim Murphy , Date: October 16, 2014 ,Views: 3218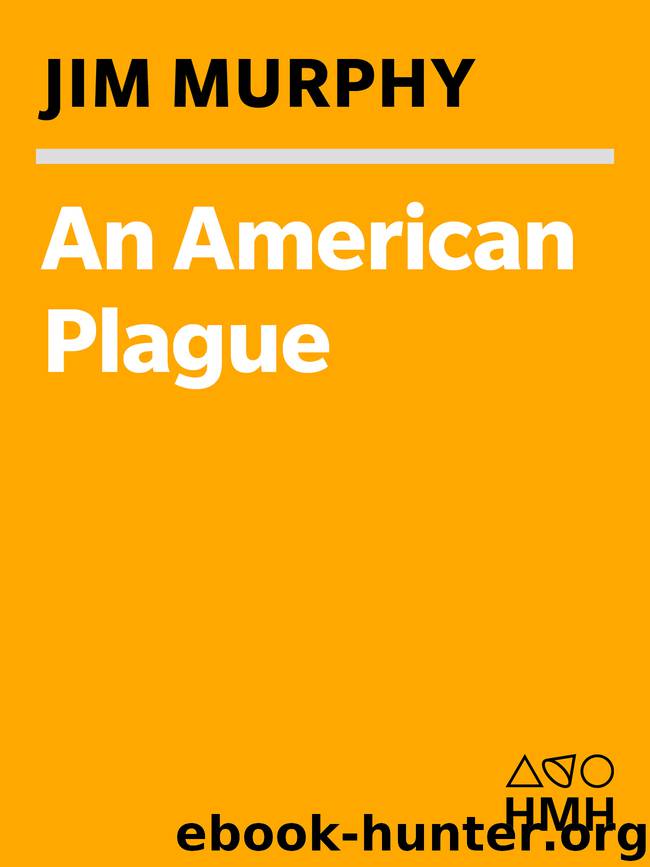 Author:Jim Murphy
Language: eng
Format: epub
Publisher: Houghton Mifflin Harcourt



George and Martha Washington, along with two young relatives and a servant, at Mount Vernon in Virginia. (THE HISTORICAL SOCIETY OF PENNSYLVANIA)
On October 28, Washington climbed aboard a coach and headed north, accompanied by Tobias Lear and a valet. The president described his five-day trip in one simple, businesslike sentence: "Set out from Mount Vernon the 28 October & arrived at Germantown the 1st, of Novemr."
Thomas Jefferson was also returning to the Philadelphia area to complete his time as secretary of state. He joined up with Washington in Baltimore. Unlike the president, Jefferson had a great deal to say about his journey—about the heat, rain, dust, and expense. Because no coaches were running north of Baltimore, the president and his secretary of state were forced to hire—at their own expense, Jefferson grumped—a carriage to take them to Germantown. All along the way Jefferson chafed at the jump in prices brought about by "harpies who prey upon travelers" returning to Philadelphia. Inns on the route had upped their rates; ferrymen were charging extra to transport people and carriages across rivers. In the end, Jefferson estimated that it cost him nearly eighty dollars just to get to Germantown.
His annoyance continued even after he reached his destination. The seven inns around the village were still jammed with folk who had left Philadelphia, and the few larger houses in the area were already filled with guests. By prior arrangement Washington went to stay at the elegant and comfortable home of David Deshler. Jefferson, on the other hand, had to beg the proprietor of the King of Prussia Tavern for a place to sleep. Even then he did not get a furnished room. "We must give from 4 to 6 to 8 dollars a week," he complained, "for [a closet] without a bed . . . a chair or table."
Jefferson did well to find a private space, as cramped and bare as it was. Two congressmen and future presidents, James Madison and James Monroe, would arrive after him and be compelled to sleep on wooden benches in the tavern's public room!
What Washington and the others discovered was that, despite the surge in deaths on October 22, the fever did indeed seem to be losing strength. Deaths fell to below thirty on Saturday, October 26. Dr. Benjamin Rush looked about his neighborhood that day and found that there was not a single person ill on his block. "The disease visibly and universally declines," he wrote to Julia, his confidence returning.
Elizabeth Drinker opened her front door to find "a delightful, cool, frosty morning," adding, "'Tis generally agreed that the fever is very much abated."
The committee, meanwhile, noted a lessening in demands for their assistance and passed a resolution saying: "It [has] pleased Divine Providence to favor us with an agreeable prospect of returning health to our long afflicted city." The fever wasn't completely gone, the committee was quick to confess, but it would be safe for "our fugitive brethren" to return in a week to ten days.
People who had hidden themselves indoors began to emerge and walk the streets again.
Download


Copyright Disclaimer:
This site does not store any files on its server. We only index and link to content provided by other sites. Please contact the content providers to delete copyright contents if any and email us, we'll remove relevant links or contents immediately.