Little Author in the Big Woods by Yona Zeldis McDonough
Author:Yona Zeldis McDonough , Date: October 16, 2014 ,Views: 3067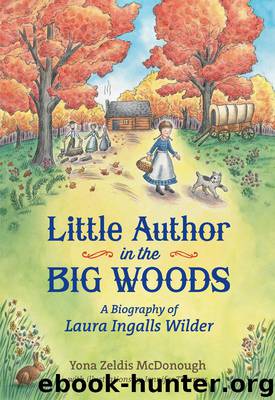 Author:Yona Zeldis McDonough
Language: eng
Format: epub, mobi
ISBN: 9781627792790
Publisher: Henry Holt and Co. (BYR)



In the spring of 1885, Laura agreed to teach one more term of school. Since married women were not allowed to teach, she would have to give up her career after the wedding. Her new job was at the Wilkins School, where she earned $30.00 a month for a three-month term and got to live with the Wilkins family, whom she liked. She was glad to give this money to her parents to help with Mary's expenses.
Even though Laura had accepted Manly's ring, she still had doubts about being a farmer's wife. From Ma's experience, she knew all too well just how hard a life it was: lots of work, and very little money. Manly listened to her concerns and asked that they give farming a try for three years. If they had not succeeded by then, he'd give it up.
His words must have calmed Laura's fears. On August 25, 1885, Laura and Manly drove to Reverend Brown's house and were married.
Laura was too independent of spirit and mind to accept the word obey in the wedding ceremony, and so she did not utter it. Manly agreed with her.
After the wedding, they drove to Ma and Pa's for dinner. Laura might have had mixed feelings about starting a new chapter in her life; she loved Manly but would miss her parents and sisters very much. When the time came, she bravely kissed them all good-bye. She was a married woman now, and she went home to the house that Manly had built for them, just two miles north of De Smet.
Laura loved the little gray frame house. There were windows in the kitchen, the living room, and the bedroom. In the pantry was a special cabinet Manly had designed and made. Now that Laura would be running her own house, she could put all Ma's lessons to good use.
Download


Copyright Disclaimer:
This site does not store any files on its server. We only index and link to content provided by other sites. Please contact the content providers to delete copyright contents if any and email us, we'll remove relevant links or contents immediately.