Keepsake: True North #2 by Sarina Bowen
Author:Sarina Bowen , Date: March 22, 2017 ,Views: 4952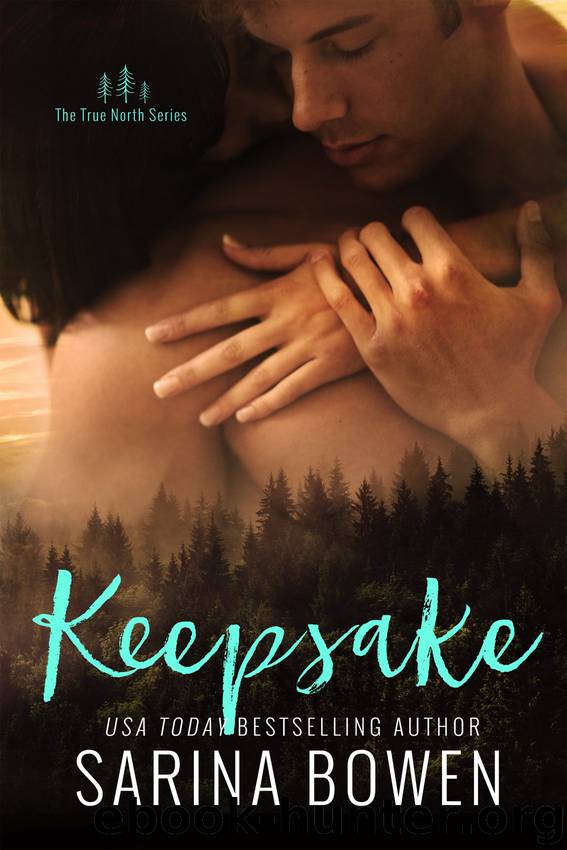 Author:Sarina Bowen
Language: eng
Format: epub, mobi
Publisher: Rennie Road Books



16
Zach
Jesus Christ. Holy shit. Mother of God.
There weren't curses shocking enough for everything happening tonight.
I slid my hands down Lark's unbelievably smooth skin and took charge of the kiss. Maybe it didn't matter if I'd never really done this before. Everywhere I touched her was an education.
She nipped at my lip, and I heard a sound come from deep inside my own chest. When she opened for me, and it was the easiest thing in the world to slip inside, and to discover the heat of her mouth and the velvet slip of her tongue against mine.
Her mouth had a new, salty flavor that I realized belonged to me. At this spectacularly dirty idea, and even though it had seemed impossible a minute ago, my dick twitched to life again. I swept my tongue into her mouth and tasted her more fully. My heart galloped like a runaway horse on the range.
On the compound in Wyoming they used to speak of girls being "ruined." Right now "ruined" sounded like a pretty accurate word for how I felt. Now that I knew how beautiful it could be, there would never be another moment when I didn't crave more of Lark.
In my life there had been few moments of either love or good fortune. And both of them coming together at once…it was almost more than I could handle.
Almost.
The feel of Lark's mouth on my dick had been, hands down, the most exciting thing I'd ever experienced. But holding her nearly naked body while she kissed me was even better. Her breasts were as soft and full as I'd daydreamed they'd be.
Happiness made me bold. My hands skimmed down her smooth body until I reached the little scrap of fabric between us. When I pushed her underwear down, Lark helped by kicking them away. I needed to explore her. So I locked my arms around her and rolled. She landed beneath me with a surprised exhalation and big eyes.
"This okay?" I whispered, ducking my head to kiss her collarbone. She nodded as I tongued my way up her neck. She arched her back, increasing the contact with my mouth.
Somehow I would have to find a way to make this night last forever. "I don't exactly know what I'm doing, you know. I hope you won't mind…"
She silenced me with a finger over my lip. "Zach, you're already a good lover."
I kissed the fingers which covered my mouth, flicking them away. "Nice try. But you don't have to butter me up."
"I'm serious." Her dark eyes flashed in the dim light. "Sex is ten percent skill and ninety percent listening. Who's a better listener than you?"
I cleared my throat. "What am I listening for?"
"You'll know it when you hear it." Then, she grasped my hand and dragged it slowly, purposefully, onto her breast. "Touch me," she whispered.
Damn. The erotic sound of that two-word directive was enough to make any guy her permanent slave. I skimmed her silky breast, capturing its fullness in my palm, then brushing past her rosy nipple.
Download


Copyright Disclaimer:
This site does not store any files on its server. We only index and link to content provided by other sites. Please contact the content providers to delete copyright contents if any and email us, we'll remove relevant links or contents immediately.