Most of All You by Mia Sheridan
Author:Mia Sheridan [SHERIDAN, MIA] , Date: October 22, 2017 ,Views: 8236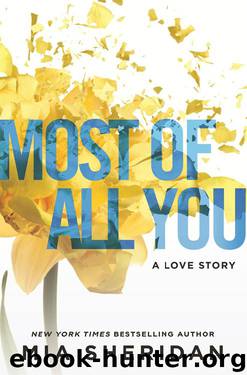 Author:Mia Sheridan [SHERIDAN, MIA]
Language: eng
Format: epub
Publisher: Little, Brown Book Group
Published: 2017-10-16T18:30:00+00:00



CHAPTER FIFTEEN
Let's not think at all. Let's just find strength in each other.
Lady Eloise of the Daffodil Fields
ELLIE
The Platinum Pearl looked dingy and worn in the midmorning light. I got out of the backseat of Kayla's car, where I'd had to sit because her passenger seat was broken and didn't move back far enough to accommodate my cast, and grabbed my crutches. My leg would be encased in plaster for another couple of weeks at least, but I could already feel that it was knitting together well. I hadn't taken any pain pills in two days and only felt a dull ache in my ribs.
"You need any help?" Kayla asked, slamming her car door and coming around to meet me.
"Nope. I'm good. I'm practically an expert with these things now." I held up one crutch before I brought it to the ground, limping to meet her.
As we walked past the Dumpster, I turned my head, not wanting to think about what happened behind it that night that seemed so long ago. It surprised me that it wasn't the beating that brought me the pang of distress, but the memory of Gabriel's sweet face above me in the hospital hallway, how beautiful he'd looked.
Gabriel …
I forced myself to move my thoughts from him. Thinking of Gabriel now would do me no good. After last night, it was glaringly obvious that I needed to get back to my own life, my own job. It was going to take a while to pick up the pieces, but I could no longer hide away from the world at Gabriel's. It wasn't fair to anyone. And certainly I was no longer welcome. No doubt Gabriel was as disgusted with me as I was with myself.
When Kayla picked me up, I'd been surprised to find Gabriel's house empty when I limped outside, yet also relieved. I'd still felt brittle and ashamed, and I didn't want to face anyone. I'd spent a restless night on Kayla's roommate's couch.
Kayla held the door open for me and then gave me a quick goodbye. "You sure you're going to be okay? I'm sorry I can't stay."
I mustered up a smile. "No, I'm good. I can hang out here for a couple of hours until you're able to come back." What I hoped was that I could use the time to study up on mixing drinks, or if Rodney let me, get familiarized with the bar.
"Okay. I'll text you when I'm on my way."
"Thanks, Kay."
I limped into the lobby and made my way to Rodney's office. Just walking through the club put a sour taste in my mouth. I couldn't help but compare this dim, dirty place with Gabriel's beautiful home, which was so full of life and light. Suddenly, being here made my skin crawl in ways it hadn't before. I forced myself to swallow the sensation.
When I knocked lightly on Rodney's office door, I heard a barked, "Yeah?" and pushed it open with one crutch.
Rodney looked up from the paperwork on his desk, an expression of genuine surprise coming over his stodgy face.
Download


Copyright Disclaimer:
This site does not store any files on its server. We only index and link to content provided by other sites. Please contact the content providers to delete copyright contents if any and email us, we'll remove relevant links or contents immediately.