Under Pressure (The IAD Series Book 1) by Laurie Roma
Author:Laurie Roma [Roma, Laurie] , Date: June 12, 2019 ,Views: 122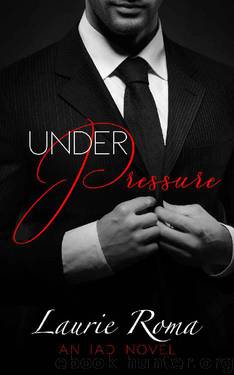 Author:Laurie Roma [Roma, Laurie]
Language: eng
Format: epub
Tags: military, stalker, romantic suspense, Romance, Agency
Publisher: Laurie Roma
Published: 2018-08-25T18:30:00+00:00



CHAPTER FIFTEEN
Bella was exhausted.
It had been a long day. A long day full of new insights. It wasn't every day that she got an inside view of a clandestine agency, complete with a tour and briefing. With her hair piled high on top of her head, she turned on the jets in Jason's huge bathtub and lay back. Soaking in the hot water gave her muscles a chance to relax for the first time in what seemed like days.
Last night, Jason had surprised her by moving her stuff into the apartment, filling his gray space with her colors. He had also painstakingly filled each room with a variety of flowers, hoping to erase the memory of Victor Dane's macabre gift. The sweet scent of the blooms filled Bella with such love. It meant the world to her that Jason would go to such lengths to make her happy, and she'd felt herself falling deeper in love with him with each passing second, until she couldn't imagine her life without him.
Moving into his apartment was a big step for both of them, although, she hadn't really been given a choice. That should have bothered her, but it didn't. She felt comfortable in her new home because she was happiest when she was with Jason. She worried that he would regret his decision, but he welcomed her into his space without the slightest hesitation.
That morning, Jason had taken them all down to the subterranean levels of the building. They met with the team of IAD members that he had put together in one of the conference rooms. Bella knew that there were teams of IAD agents all over the world, but from what she'd heard, Jason's agents were known as being some of the best.
As they had walked through the command center, Bella was awestruck by the people who worked there. These dedicated individuals were working to protect the world, and no one even knew they existed. She had been absolutely amazed at the high-tech equipment she saw. It had felt like being dropped into another universe or like she had walked right onto a movie set.
There were numerous agents out on assignments, and Bella realized she had no clue how big this division of IAD really was. She couldn't help being a little pissed that Tony and Danny had been there before, but she couldn't blame them. If they hadn't known about IAD, she wouldn't have told them either.
She understood that secrecy was vital.
After a long and arduous fight over the phone, the brothers had convinced their parents to take an extended vacation to Jason's villa on the Amalfi coast. Telling them that it would be easier to keep Bella safe if they were hidden away was true. It would also put everyone's minds at ease to know they were out of harm's way, and knowing Jason, he would have agents make sure they stayed that way. Bella was grateful for the generosity Jason had shown her parents, but when she said so, he just gave her an impatient look that made her wish she had kept her mouth shut.
Download


Copyright Disclaimer:
This site does not store any files on its server. We only index and link to content provided by other sites. Please contact the content providers to delete copyright contents if any and email us, we'll remove relevant links or contents immediately.