The Year We Fell Down by Sarina Bowen
Author:Sarina Bowen [Bowen, Sarina] , Date: April 16, 2014 ,Views: 7752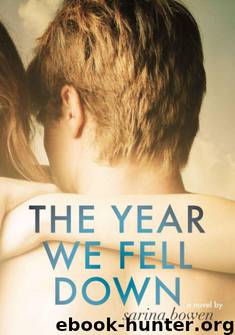 Author:Sarina Bowen [Bowen, Sarina]
Language: eng
Format: epub
Tags: Romance, Young Adult, Contemporary, Book 1 of The Ivy Years, A New Adult Romance
ISBN: 0991068009
Google: CGMhAwAAQBAJ
Amazon: B00J50YNE0
Barnesnoble: B00J50YNE0
Goodreads: 20896313
Publisher: Rennie Road Books
Published: 2014-03-20T04:00:00+00:00



Chapter Fourteen: Give Us a Kiss
— Corey
There was a polite knock on my door the next morning. Dana's voice said, "Um, Corey? Can I come in?"
"Sure," I said, yawning. It was getting late, but I couldn't make myself face the day.
She walked into my room, looking around as if she expected to see something different. "So…what the hell happened?"
Uh oh.
"Happened?" I asked, my face twitching into an unavoidable guilty smile.
She rolled her eyes. "Spill it, you. Because you are so busted." Dana flounced over to my bed and sat down at the foot of it. "When I came home last night, one of Hart-throb's crutches was on the living room floor, and now it's gone. Was he in here?"
I put my face in my hands. "For a little while."
Dana grabbed my hands and pulled them down. "Seriously? His girlfriend blew him off, and so he came across the hall to fool around with you? And where is he now?"
I exhaled. It all sounded so wrong coming out of her mouth. "That's one way to put it."
"Is there another way? Is he breaking up with her, or does he expect you to be his fuck buddy?"
"Dana! It isn't quite as bad as that. You like Hartley."
She looked sad. "I do like him. And I think he…" she flopped back onto my bed. "I don't know what to think. The way he looks at you sometimes…" she shook her head. "I just don't trust him. It's like there's a good Hartley and an evil one, and they're always at war. I don't want you to get caught in the crossfire."
"Yeah," I said. "But there's a layer to the story that you don't know."
She sat up quickly. "What?"
"Well," I swallowed. "I confessed something to him a few weeks ago, and…"
She stared at me, her dark eyes searching mine. "What is it?"
I took a deep breath, and I told her. Most of it, anyway.
"So…" she rubbed her temples. "That's the weirdest, most romantic story I've ever heard. He talked you into fooling around, so you could find out if you can…?"
I nodded.
"…and it worked?"
My face was getting hot. "Did it ever."
Dana hooted with laughter. "Oh my God. And then what?"
I took a deep breath. "Then he teared up. And then he left."
Her eyes were the size of saucers. "I don't even know what to make of that. But I do know you're in trouble."
"Why?" I whined, although I already knew the answer.
"Because you've just exchanged one heartache for another. Now you know how good it can be, but you want it with him. Do you have any idea what will happen now?"
It was the question I'd been avoiding since I opened my eyes that morning. "I think nothing happens now. Stacia will come back, and Hartley and I will pretend it never happened." I swallowed. "It's going to be awful, isn't it?"
Dana nodded. "A hundred kinds of awful." She looked at the ceiling. "You know, his mother asked me about you two."
"Seriously?" I leaned forward.
Download


Copyright Disclaimer:
This site does not store any files on its server. We only index and link to content provided by other sites. Please contact the content providers to delete copyright contents if any and email us, we'll remove relevant links or contents immediately.